That was then… This is NOW!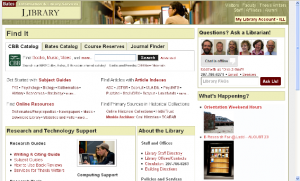 The Library website gets a makeover for the start of the 2012-2013 academic year!
The award-winning style and improved functionality of the Bates College web site have been applied to the Ladd Library site to provide our users with the same great resources but a more elegant presentation and intuitive experience.
As you can imagine, preparation and testing of this new site involved the the work of many individuals. However, if you identify a problem while using the new site, please help us resolve the issue as quickly as possible by sending comments and suggestions to libraryweb@bates.edu.