A Scanner in Your Pocket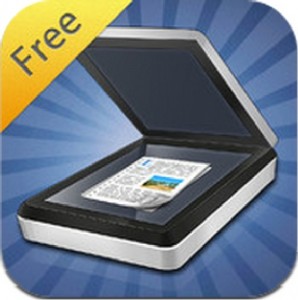 Left your photocopy card back in your dorm room?  If you have your smart phone, you could be OK.
Working in the library and need to copy a few pages from a reference book?
Planning a field trip with your Geo class and want copies of a large topo map for everyone in the group?
Up all night drafting the solution to a serious world problem…on a white board?
If you have a smartphone with camera and access to the internet, then the CamScanner app from IntSig Information could be the solution.  CamScanner, available for both iOS and Android devices, converts pictures from your smartphone into multipage PDF docs.
The free version of the app allows you to make 50 PDFs of up to 10 pages each.  In app processing allows you to crop and enhance your image.
PDFs can be uploaded to cloud services like Google Docs, DropBox and Box.net.  You can also email files from within the app using Gmail or create a note for Evernote.
Both the iOS and Android versions of CamScanner also allow upgrade to a paid version which allows unlimited scans.  The paid versions also remove in app advertisements and a small watermark that appears in the lower right hand corner of pages generated with the free version.
As with most productivity apps, there are other image-to-PDF programs available.  If you use one of these with great success, please let us know and we'll pass the recommendation along.