Use Google Drive for Journal Articles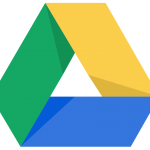 After a fruitful research session in the library, you've collected a trove of journal articles stored on a public computer.  The library is about to close and the files will be gone when you come back tomorrow.  What do you do?
Google Drive
In addition to your Bates GMail, your Google account provides you with 5 GB of cloud based network storage called Google Drive.  If you already use Google Docs, than you are familiar with  Drive.  But did you know that you can store other files, like journal article PDF files, in Drive too?
And 5 GB means you can store A LOT of journal articles.
To access your Google Drive, simply log in to your Bates GMail account and select "Drive" from the navigation bar at the top of the browser window.
To move files into your Drive space, use either the "Upload" button to begin the process of selecting the files you want to save or simple drag and drop the files from your computer into the Drive window.
Uploaded files can be organized in sub-folders that you create.