Joe Smith Interview Collection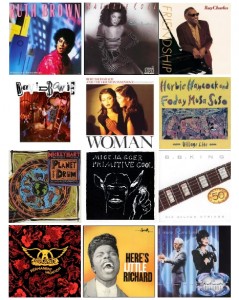 Over a two year period from 1986 to 1988, Capitol Records/EMI President Joe Smith recorded interviews with more than 240 recording artists and executives.   Clocking in at 238 hours, this 263 cassette collection of oral histories served as the basis for Smith's 1988 book "Off the Record: An Oral History of Popular Music".
After publication of "Off the Record", these remarkable recordings were moved to "storage" where they remained until early 2012.  Smith was convinced to remove the interview tapes from his garage and donate them to the Library of Congress where their enormous value was immediately recognized.
It is of note that this historic collection was preserved and made freely available after a conversation between Joe Smith and a member of the first band he signed to Warner Brothers Music.  Mickey Hart, drummer for the Grateful Dead and one of the interview subjects, successfully urged Smith to consider donation of tapes.  It is also of note that the Grateful Dead have promoted live "bootleg" recordings of their shows for decades and it is in this spirit that Smith's interviews are made available to the public.
On November 28, 2012, an initial installment consisting of approximately 25 hours of interviews with 25 individuals was made available to the public.  The index page for the existing public collection can be found here and a list of the interview subjects is given below.
| | | | | |
| --- | --- | --- | --- | --- |
| Tony Bennett | David Bowie | Ruth Brown | Dave Brubeck | Burt Bacharach |
| Ray Charles | Dick Clark | Natalie Cole | Bo Diddley | Ahmet Ertegun |
| Peter Frampton | Milt Gabler | Ellie Greenwich | Herbie Hancock | George Harrison |
| Mickey Hart | Mick Jagger | B.B. King | George Martin | Paul McCartney |
| Graham Nash | Yoko Ono | Joe Perry & Steven Tyler | Little Richard | Linda Ronstadt |
Not sure who some of these modern luminaries are?  Want to find out? Pop on over to the Music Subject Guide page created by Music and Arts Librarian Chris Schiff to discover more from the Oxford Music Online and the RILM Abstracts of Music Literature databases hosted at the Ladd Library.
Interested in researching how a musical artist charted over time?  Perhaps you'd like to compare how a specific single or album charted in the U.S. vs. the U.K.?  Find out by searching over 60 years of data available to the Bates community at Academic Charts Online.  In addition to stats from over 40 international music charts, you can also follow links to articles from journals like Popular Music, Journal of the Society for American Music (JSAM), Journal of Popular Music Studies, Popular Music and Society and Rock's Back Pages.
A finding aid containing details of the complete Joe Smith interview collection as well as a short bio of Joe Smith are provided at the Library of Congress site here.