Thesis Research Help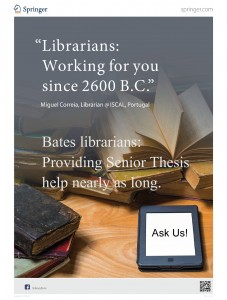 At this point in the semester, work on your Senior Thesis is already well underway.  As you begin your research with library resources, remember that the Bates research librarians are available to help.
For questions regarding how to find specific types of sources, how to format that tricky citation or how to get that crucial book or article via interlibrary loan, we are anxious to work with you.
Let us save you time!  It's a big part of what we are here for.
Select the link for the appropriate research librarian below and see when they are available to meet.  From there you can either fill out the convenient online request form or drop by the research desk when we are there.
Laura Juraska: Social Sciences
Sandra Groleau: Government Documents Librarian