The New CBBcat!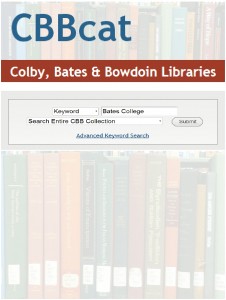 Colby, Bates and Bowdoin (CBB) libraries just launched a new, merged catalog of all our holdings – http://cbbcat.net
– retaining many of the best features of the previous CBBcat and our local Bates catalog, both of which are now retired.
New CBBcat features include:
Combined CBB holdings with option to limit to a single library
Ability to virtually browse the "shelves" of the CBB collections
Request material from Bowdoin or Colby by using "CBB request" and not by repeating the search in NExpress or MaineCat
Extended loan periods for faculty and students from all three schools
Single reserve system for all three libraries with easy institution-distinguishing labels
Requests for Offsite books made through the "CBB request" on the header of each record
For more details and background, see this news story.