Ladd Recognizes 20 Year Anniversary of the Osher Map Library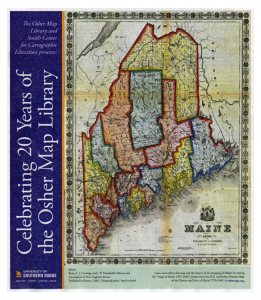 Promotional materials describing the 20th Anniversary of the Osher Map Library (USM) along with Bates cartography resources are on display near government documents at Ladd Library.
---
The impressive Osher Map Library contains a growing collection of more than 400,000 historical and contemporary maps in categories which include:
Early Maine State Maps
Maps of Portland, Maine (1836 – 1981)
15th Century Navigational Charts and Globes
Early Modern and Modern Maps of Spain and Spanish Territories
With a large portion of its 8,000 digitized maps freely accessible and searchable, the Osher Map collection serves as a valuable resource for online scholarship.
Links to the Osher Map Library website and a large collection of additional online map resources are collected on the Ladd Library Map subject guide.