The Poetry of Displacement — in the Library!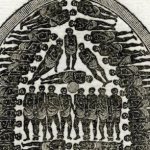 Dec 2nd at 4:10-5:30 PM Poetry form around the world, read in its original languages.
The Programs in European Studies, East Asian Studies and Latin American Studies invite you to a reading of poems about displacement in languages from around the world.  Poems will be read in their original by students, faculty and staff – a handout with English translations will be available.  Please join us this afternoon, Dec 2,  at 4:10 PM in the first floor lobby of Ladd Library.