Literature Review Help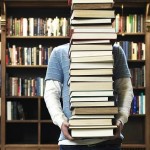 Don't let yourself get buried by your research!
Most thesis students find themselves wrestling with the literature review at one point or another. As your research takes you further into your topic, the literature review's focus and framing of the research question often shifts. How do you find the most relevant and useful sources–and keep track of what you find? How do you decide what stays in and what goes out? We'll work on strategies for negotiating the voices of critics and scholars in your field, so that the path to your research question is clear and your voice stands out.
Join Bridget Fullerton and Christine Murray in Writing Center on Monday, Feb 12, at 7 PM
And then join Bridget and Chris Schiff on Weds, Feb 14, at 7pm again in the Writing Center