Sports Notes
Hoops by Happenstance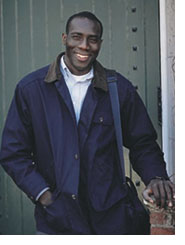 So how does a high school kid in a soccer-crazy African nation become, in five years, one of the best small-college basketball players in America?
Give some credit to Dennis Rodman, of all people.
Growing up in Libreville, Gabon, on the west coast of Africa, Rommel Padonou's main game was soccer. But one day, he saw an NBA game on television between Detroit and Chicago. "I was really impressed with Dennis Rodman and Michael Jordan," said Padonou (pronounced PAD-ah-noo). "One day, a friend came to pick me up and said that instead of soccer, we would play basketball. 'Remember when we saw that game?' he said. And I said, 'Yeah…it was cool, they play with hands! Let's try it.'"
They headed to the gym to find the girls team on the court. When the coach, who worked with both the boys and girls, discovered that Padonou had never played before, they started working with the girls team. "I just wanted to learn," Padonou said. "For two weeks with them, we learned the basics: the rules, how to dribble, lay-ups, that kind of thing."
At first, he said, people laughed at him, because his dribbling skills were slow to develop. The laughter died down after someone asked if he could dunk. "I said, 'What is dunk?' He said, 'You just grab the ball, you jump, and you throw it in the hoop. Make sure you don't travel.'"
"I said, 'I can do that!' So I just took the ball and stood underneath the basket and jumped and threw it in. Everybody in the gym stopped and looked at me. I said, 'Isn't that what you asked me for?'"
These days, Padonou is a 6-6 sophomore forward on the Bates basketball team. He averages 17 points and nine rebounds per game, both among the top five in the highly competitive New England Small College Athletic Conference (NESCAC).
"I think Rommel (pronounced roh-MEL) has only scratched the surface of his potential," said his coach, Joe Reilly. "He has a strong work ethic and is extremely coachable. If he continues at this pace, I envision him as a first team All-NESCAC player."
While it has taken time to develop moves that make for a more sophisticated player, Padonou's leaping ability was impressive from the start. He credits his tae kwon-do work as a youngster with helping to develop flexibility. Padonou initially studied tae kwon-do for self defense, but when he started to grow, he began using the ability to pick fights. "My mom didn't want me fighting so much," Padonou said. "That was another reason I got into basketball."
"With tae kwon-do, you use your legs a lot." Feet flying, a demonstration proves his point. "I used to do competitions, which was really fun." Another technique Padonou uses to keep in shape and stay flexible is running in the pool, a technique also employed by the track and cross country programs at Bates.
By the time he reached his junior year of high school, Padonou had earned a berth on Gabon's junior national and senior national teams. Padonou was well known by everyone — but his mother. "One day, I came home from a game and she said, 'I saw you on TV about 40 minutes ago. I didn't know you were that good!'"
As a member of the national team, Padonou played against teams from Cameroon, France, Angola, and Croatia. Having lost just once while playing in Gabon, Padonou discovered he was just a small player, so to speak, in the world of basketball." We played against Croatia and lost by 30," he said. "You learn more from losing. Back home, it was easier, you just play and get away with a win and never question your game. But when you lose, you see what you need to work on, where you can improve."
After completing his high school education, Padonou had his first opportunity to come to the United States, thanks to the World Scholar Athlete Games. Sponsored by the Institute for International Sport headed by Dan Doyle '72 (see profile in Class Notes), the games bring scholar-athletes from around the world to the campus of the University of Rhode Island. He was impressive from the outset. "Some of the other players were 6-7, 6-8, but there was one play where they forgot to box me out," Padonou explained. "I went for the rebound, but instead of just coming down with it, I just grabbed it and dunked it. In one game I think I scored, like, 60 points."
Luckily for Bates, one of Padonou's games was seen not only by Doyle, but by Vice President for Administrative Services Bill Hiss '66 and Dean of Admissions Wylie Mitchell. "I watched Rommel play, and play well, with some players who are in Division I right now," Doyle recalled. "Everyone was so impressed with him, not just as a player, but as a person. I could tell by talking to him that he would be a terrific fit with Bates."
"The great thing about the World Scholar Athlete Games was meeting so many people from around the world and using the universality of basketball to connect with people. You learn you don't have to communicate verbally to get connected," Padonou said.
Having met with the Bates administrators as well as recruiters from big-time college hoops programs like Georgetown and the University of Connecticut, Padonou returned to Gabon. But the emphasis placed on education at the World Scholar Athlete Games really stuck. "It wasn't basketball that brought me to Bates," Padonou explained. "It was academics. Basketball is just by accident."
It certainly felt like an accident in his 3-21 rookie year. For a player whose losses had mostly come at the hands of national teams and world powerhouses, it was a frustrating year. It showed sometimes, as Padonou fouled out of five games and picked up a handful of technical fouls.
"I am a very emotional person, and other teams know that, I think. But they also know there is no way to stop me. If I get frustrated on offense, I work harder on defense. If you forget me on defense, I will beat you on offense. That is what life is about. Things don't always work your way, but as long as you believe in yourself, everything changes eventually." Like the team this season. The Bobcats captured a tournament title at Norwich University in the first semester, believed to be the first in-season title in Bates men's hoops history. Against Albertus Magnus College on Nov. 28, Padonou scored 41 points by hitting 18 of 21 shots from the field, while grabbing eight rebounds.
Padonou, an economics and French literature double major at Bates (he learned seven languages in high school), said the chemistry on the 1998-99 team is key to its success. "Most teams need a couple of seasons to be unselfish with each other, but we are already an unselfish team.
"It is like the fingers on your hand. There is no way one finger can sweep the entire face, you need five fingers. And if you look, they are all different sizes — they connect just right. Basketball is like that, a team sport. Actually, my mother came up with that correlation," he said with a smile.
Not having been home for close to two years, Padonou misses his family. "Coming here was a hard decision to make. My mom and I and my uncle in the Peace Corps, we talked about it and said there is a time for everyone to get away from their family, to go down their own path.
"I miss being home, but I'm not homesick," he continued. "It is not my country or Africa I miss so much. I miss the special moments with my family, saying, 'Hi, how are you doing, Mom?' I've called home a couple of times since I've been here. It's painful, but at the same time, it's rewarding, because I grew."
Smile and Say, "Achievements"
A number of personal and team accomplishments have marked the fall and winter sports seasons.
Women's basketball co-captain Colleen McCrave '99 of Walpole, Mass., is the all-time steal leader among NCAA Division III women. McCrave, a guard, made her 506th career steal in an 88-45 rout of Worcester Polytechnic Institute on Jan. 9. The women's team was 17-3 by mid-February.
Last fall, Bates College volleyball coach Marsha Graef won her 400th career match during her final year as coach, earning her a spot in Sports Illustrated's "Faces in the Crowd" feature on Oct. 19. After giving Graef her milestone win, the Bates team rewarded the coach again in November with the Eastern College Athletic Conference championship.
"I never set out to reach a certain number of wins," Graef said. "I have been lucky to work with some talented young women throughout my career, players who have been motivated and hard workers. This is as much of an honor for them as it is for me."
Graef will stay on the athletic department staff and assume extra duties as an athletic administrator, overseeing various aspects of the varsity, club, and intramural programs.
"We have been fortunate to have a coach of Marsha Graef's caliber at Bates for such a time," said Director of Athletics Suzanne Coffey. "The class with which her teams have represented Bates is remarkable."
Graef finished her career with an overall record of 416-144. Her .743 winning percentage is the best among any New England Division III coach who has coached more than five seasons and is 10th among all Division III coaches. Graef's 1989 team went 36-0, one of only two undefeated seasons in NCAA Division III volleyball history.
The volleyball team was one of two ECAC champions last fall. The women's soccer team beat Gordon College, 2-0, in the championship game of the ECAC Division III New England women's soccer tournament.
All sorts of sports information — including news about the Bates-hosted NCAA Skiing Championships March 10-13 — can be found on the Bates Web site at www.bates.edu/sports.