Tahirih Justice Center director speaks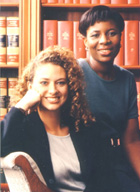 Layli Miller, who argued a landmark legal case establishing female genital mutilation (FGM) as a basis for U.S. asylum, discusses violence against women at 7 p.m. Wednesday, Nov. 28, in Bates College's Chase Hall Lounge, 56 Campus Avenue. The lecture is free and open to the public.
Miller is executive director of the Virginia-based, non-profit Tahirih Justice Center, which provides legal aid and social services to protect human rights for women. She co-wrote Do They Hear You When You Cry (Bantam Doubleday Dell, 1998), the story of Fauziya Kassindja, who fled her native Togo as a teenager rather than undergo ritual genital mutilation.
Kassindja spent more than a year imprisoned in this country before her refugee status was legally established. A summer intern for Kassindja's lawyer, Miller became Kassindja's friend and champion. Despite early setbacks, in 1996 Kassindja's legal team won a Board of Immigration Appeals decision establishing FGM as grounds for asylum.
Miller's talk at Bates is titled The Global Impact of Violence Against Women: Is International Peace Attainable Without the Eradication of Violence Against Women? She will relate violence against women to the treatment of refugees and U.S. immigration and asylum law, issues increasingly relevant in the aftermath of Sept. 11.
For more information about the lecture, please call 207 786-6330.
View Comments