Boston filmmakers present Maine premiere of award-winning Lift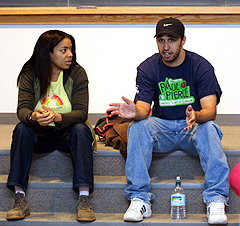 Boston filmmakers DeMane Davis and Khari Streeter will screen the Maine premiere of Lift, their dramatic film about shoplifting at 7:30 p.m. Monday, Nov. 26, in the Keck Room, Pettengill Hall, at Bates College. The public is invited to attend free of charge.
Set in Roxbury, Mass., Lift is an emotionally moving mother-daughter story that revolves around the high-stakes world of shoplifting. The movie "teems with life," writes The New York Times critic Elvis Mitchell, who calls the picture "a lively and thoughtful attack on the perfidious materialism that has always prowled the country's inner cities like a hungry cat, preying on acquisitive young African-Americans."
Winner of the 2001 Grand Jury Prize for Best Feature Film at HBO's UrbanWorld Film Festival in New York, Lift has earned acclaim at various other festivals, including Sundance — the premier U.S. event for independent filmmakers, held each year in Salt Lake City — and the Acapulco Black Film Festival.
Lift was selected from more than 60 scripts as the U.S. winner of the 1998 Sundance/NHK Filmmakers Award. Davis and Streeter also screened their well-regarded 1997 debut film, Black & White & Red All Over, at Sundance.
Lift stars Lonette McKee (seen in Spike Lee's Malcolm X, Jungle Fever and Sparkle) Kerry Washington (Save the Last Dance), veteran Barbara Montgomery, Eugene Bryd (Whiteboys and Dead Man) and rap artist Sicky Fingaz. Lift, according to film critic Anthony Kaufmann, "complicates the conventions of the 'urban drama' with a smart new take, surpassing the stereotypes of Yo! MTV Raps and Boyz in the Hood."
Davis and Streeter's Bates appearance, which includes a visit with an American cultural studies class, is sponsored by the Department of Theater and Rhetoric, and the African American studies and American cultural studies programs. For more information, contact Charles Nero at 207-786-6415 or this cnero@bates.edu.
View Comments