State Department official launches Distinguished Alumni in Residence program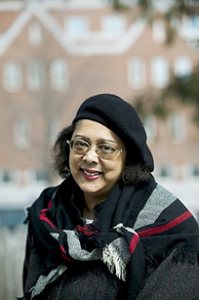 Chantal Berry Dalton '69, a career diplomat with the U.S. State Department, is the inaugural speaker in the new Distinguished Alumni in Residence program at Bates College.
Dalton, who administers public affairs in southern Africa for the State Department, gives a public presentation on U.S. policies in Africa at 7 p.m. Wednesday, March 17, in the Edmund S. Muskie Archives, 70 Campus Avenue.
Dalton's talk is open to the public at no charge. Her residency at Bates is sponsored by the College Key, an organization of Bates alumni.
During her stay at Bates, Dalton will also make classroom visits and, through the college's Office of Career Services, talk to students about her work.
"I'll be talking about what my experience has been and the culture of the Department of State," says Dalton, who is pleased to have the opportunity to encourage students from her alma mater to follow in her career footsteps.
Dalton's public presentation will cover six points of U.S. policy in Africa, including the continent's economy, environment, its role in the war against global terror, democratic government, AIDS and the need for large-scale efforts at conflict resolution.
"One of the main things, along with AIDS, that impedes development in Africa is this continual context of conflict," she says, pointing to the recent upheaval in Liberia and the ongoing border dispute between Ethiopia and Eritrea. "This becomes a really big challenge for the department."
Based in Washington, D.C., Dalton is the country officer for Angola, Botswana, Mozambique, Namibia, South Africa, Zimbabwe and four other countries in southern Africa. She has represented U.S. foreign policy overseas since 1981, when she joined the U.S. Information Agency, and has held a variety of foreign postings including Pakistan, Costa Rica and Brazil.
She works in the Office of Public Diplomacy and Public Affairs in the State Department's African affairs bureau. She and her colleagues in public diplomacy and affairs, she explains, "deal with the public image of American foreign policy and the public image of the embassy itself," in the case of those serving abroad.
Dalton earned her bachelor's degree in English at Bates and a master's in American literature at Northwestern University as a Ford Foundation Fellow. She taught at the University College of Rutgers, and hosted a public affairs program for New Jersey public television.
Dalton also speaks Portuguese, Spanish and French. She sings in her church choir at Foundry United Methodist in Washington, and is married to the Brazilian artist Jorge Luis Garcez Rocha, whom she met during her posting in Rio de Janeiro.
Based in Washington since 2001, Dalton's work nowadays includes dealing with foreign media covering the United States. "For example, we have several groups of people coming to the two political nominating conventions this summer," she says.
"That's a big part of the job in an election year. It's always interesting to see another journalist's perception of how we run political campaigns in the United States — very interesting. We learn a lot and they learn a lot."
View Comments