Professor Emeritus of Mathematics Richard Sampson dies at 81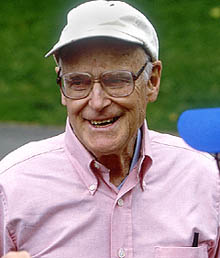 Professor Emeritus of Mathematics Richard W. Sampson, known for inspiring his students through both his passionate and creative teaching of mathematics and his active interest in their lives, died April 1. He was 81.
A campus event celebrating his life and work is scheduled for Reunion Weekend, Friday, June 11, at 3:30 p.m. in the Olin Concert Hall.

When Sampson retired at the end of the 1989-90 academic year after a 38-year teaching career, Bates Magazine recounted his contributions to the College:
One of his many rewarding Bates experiences was serving as faculty advisor of the Outing Club. For 25 years Sampson worked closely with students in the organization, and he remembers participating in "many beach parties, many canoe trips, many Appalachian Trail work trips." One of his many goals as advisor to the Outing Club was to make sure that the students had control over their own budget. With the purse strings in the students' hands, the educational experience of being a part of the club was enhanced.

Also, Sampson has encouraged students to become more involved as volunteers in their communities. "Students should be more concerned," said Sampson, "about devoting part of their lives toward service to the community…."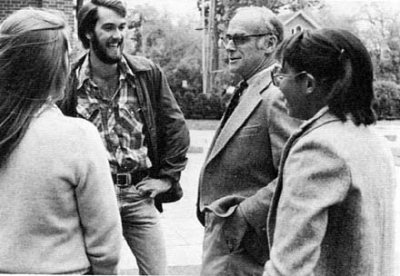 Among the changes he has noted during his tenure at Bates, one is particularly significant. Sampson said he is glad finally to see more diversity of culture and gender in higher education. Especially gratifying for him is to see more women undertaking careers in mathematics, a field which has been greatly restricted in the past. The struggle isn't over yet, said Sampson, but progress has been made.
"Other changes he has seen in the field of mathematics involve the emphasis put on applied and abstract math. "The trend in math is to become more applied to satisfy the technological needs of society, but abstract math is just as important," he said. "Abstract math is probably more important in the long run…. The abstract mathematician never knows when his work will become applied math."
Sampson was born in Newton, Mass., in 1922 and earned his bachelor's degree at Bowdoin in 1944. He studied at MIT in 1943 and earned his first master's degree, in education, at Tufts University in 1947. Through 1950 he taught at the Franklin Institute of Technology in Boston, following up the experience with master's degree in mathematics at Boston University in 1951. Until 1951, when he was appointed at Bates, he taught at The New Preparatory School in Cambridge, Mass.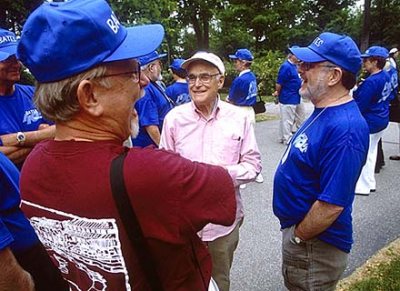 Each year the Sampson Lecture Fund, set up in his honor at Bates, sponsors a campus visit by a prominent mathematician. The Sampson Lecturer typically presents an afternoon research seminar for the mathematics department and a lecture for a general audience in the evening.
Sampson is survived by a son and daughter-in-law, Stephen Byers Sampson and Elisa Hurley of Bar Harbor, and three grandchildren. He was predeceased by his wife, Jean Byers Sampson, and a son, Caleb Sampson.
A brief memorial service will be held on Tuesday, April 13, at 2 p.m. at the Blue Hill Congregational Church, 22 Tenney Hill, Blue Hill. There will be no calling hours or interment ceremony.
In lieu of flowers, the Sampson family requests that gifts be made in his memory to Bates College, c/o Office of College Advancement, 2 Andrews Road, Lewiston ME 04240.
The family plans a gathering in his honor at a later date.
View Comments