'Be curious, compassionate, committed,' graduates told in 138th commencement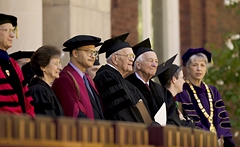 A beloved former dean of admissions was one of four eminent speakers to offer advice and counsel to 450 graduating Bates College seniors today during the college's 138th commencement ceremony.
For the first Bates graduation in recent years at which all honorary-degree recipients spoke, as opposed to a single marquee speaker, honorands included an eminent historian of race and class in America, a former head of the National Science Foundation and the chair of the agency directing the rebuilding of Lower Manhattan after Sept. 11.
The ceremony took place on the college's Coram Library Quad before an energetic gathering of about 2,500 family, friends and members of the Bates community. The Bates class of 2004 included 48 students from Maine.
Leading the ceremony was President Elaine Tuttle Hansen, who cited Middlemarch author George Eliot in expressing a reluctance to lose touch with the departing class. "Who can quit young lives after being long in company with them," Hansen quoted Eliot, "and not desire to know what befell them in after years?"
The honorands were Rita R. Colwell, a biologist who until February served as director of the National Science Foundation (Doctor of Science degree); David Levering Lewis, a historian and biographer twice awarded the Pulitzer Prize for his multi-volume biography of African American writer-philosopher W.E.B. Du Bois (Doctor of Humane Letters); Milton L. Lindholm, a Lewiston resident, member of the class of 1935 and a dean emeritus of admissions praised for his insight and compassion (Doctor of Humane Letters); and John C. Whitehead, known for both his business success and public service that includes chairing the Lower Manhattan Development Corp. (Doctor of Laws).
Now chairman of Canon US Life Sciences, Colwell encouraged the graduates to pursue their passions because, she said, "we bring our own vision, our own values and our own versatility to them." She offered an example from her own experience, describing work done in Bangladesh by her cholera research team, which discovered a simple water-filtering technique, using a common garment fabric, that effectively reduces the incidence of that deadly disease.
Mocked at times for their paradigm-shattering ideas, Colwell and her team were "ordinary people committed to our passion and able to make a difference," she said. She urged the graduates to "be curious, be compassionate and be committed" during their lifelong journey.
"You will not lack for challenges," she said.
Lewis observed that this is the 50th anniversary of the landmark civil rights decision Brown v. Board of Education. He said that "nothing could be more obvious to us now than that the civil rights struggle of African Americans commenced the fight for the optimal expansion of everybody's rights."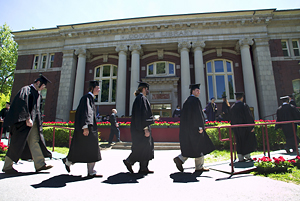 Lewis went on to caution graduates against accepting the "Faustian bargain" of trading liberties for securities. "Unless we take great care, the Homeland Security state and its Justice Department handmaidens, Patriot Acts I and II, may well leave our civil liberties as maimed as the New York cityscape has been by the Al Qaeda jihadists," a remark that draw applause.
In conclusion, Lewis told the graduates, "I envy your options because they really are breathtakingly heroic, and now it's up to you to make history come out the right way."
The 92-year-old Lindholm remarked that if he had started at Bates right out of high school, today's commencement would have marked the 70th anniversary of his own. Emphasizing a sense of Bates community that he very much embodies, Lindholm told the seniors to "cherish the memories, rejoice in the friendships, come back often and keep in touch."
Lindholm also won the biggest laugh of the day with a joke about Bates, Bowdoin and Colby men stranded on a desert island — chastised by his fellows for doing nothing to attract rescuers, the Bates man says, "I'm not worried. The Development Office will find me."
Whitehead, the final honorand, decried the lack of towering leaders in today's world and asked the graduates to help fill the gap. "Whatever your personality, whatever your style, think of yourself as a leader," he said. "Set your goal to make a difference in this world."
Hansen initiated the change this year from one honorary degree recipient speaking at length to inviting all four honorary degree recipients to give 5-minute remarks to the graduates. "We were bringing these very distinguished people to campus, and no one else was getting a chance to hear from them except a few trustees at dinner," Hansen told news media after the ceremony.
View Comments