Alumni honored at Reunion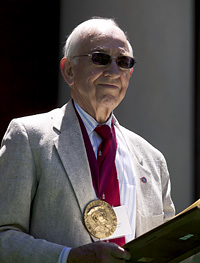 Weston L. Bonney '50, a distinguished banker, longtime college Trustee and a volunteer who has worked tirelessly in Maine and abroad to advance education, arts and commerce, received the Benjamin Elijah Mays Medal, the College's highest alumni award, at the 136th Reunion Alumni Awards Ceremony on June 12.
The Mays Medal is awarded only on occasions when the College wishes to honor an alumnus or alumna who has made extraordinary contributions in the United States and the world at large. The award was established during the lifetime of Benjamin Mays '20, a civil rights leader, mentor of the Rev. Martin Luther King Jr. and former president of Morehouse College.
Weston Bonney entered Bates as a married student in 1946 after serving in the U. S. Navy. He graduated cum laude with a degree in economics and soon thereafter embarked on a four-decades banking career that lasted until his retirement in 1991 as chairman and director of People's Heritage Bank.
An active member of the Bates community, Bonney is president of his class. He sponsored Career Discovery Interns, recruited students and served as president of the Alumni Council. A member of Reunion committees, a regional vice chair for the college's third Capital Campaign and a member of the Bates Fund Committee, Bonney  served as a Bates Trustee from 1971 until 1996. (His son Michael Bonney '80 is currently a Bates Trustee.)
Bonney's service extends far beyond Bates. A tireless promoter of economic development and small businesses in Maine, he has equal passion for the arts, especially music. He has championed improved health care and environmental causes locally and internationally, serving as a banking adviser in Eastern Europe after the dissolution of the former Soviet Union. In recent years, he has turned his energies toward improving the education of Maine's children. A current member of the Maine State Board of Education, he has been the principal architect of the Essential Programs and Services formula that ensures Maine students receive the necessary funding to achieve the Maine Learning Results.
Roger C. Schmutz '54 joined Bonney as a Reunion honoree when he received the Helen A. Papaioanou '49 Distinguished Alumni Service Award. Presented to a graduate for extraordinary service to Bates, the award honors the deep love for Bates displayed by Dr. Papaioanou during her decades of service to the College and to the Board of Trustees from 1965-99.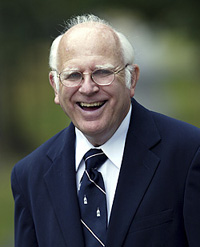 Schmutz enjoyed a distinguished career in journalism, retiring in 1981 as group vice president for financial publishing at Standard & Poor's Corporation. He served on the Bates Board of Trustees for 31 years, including a stint as secretary of the corporation, and has worked on every Bates capital campaign, advising three presidents along the way and mentoring several generations of Bates trustees. His service to Bates included club leadership, student recruitment and Reunion leadership.
View Comments