Directors of SUNY Brockport Vietnam Program discuss post-war Vietnam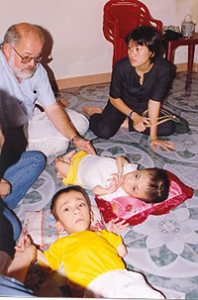 Kenneth J. Hermann Jr. and Nguyen Thi My Hoa, director and vice-director of the State University of New York at Brockport's Vietnam Program, discuss post-war Vietnam, its relations with the United States and the legacy of Agent Orange in a presentation titled Vietnam: A Nation, Not a War, at 6:30 p.m. Friday, Sept. 10, in the Edmund S. Muskie Archives. The public is invited to attend at no charge.
"During the presentation, you'll have the chance to hear perspectives from Vietnam veterans, academic professionals and people from Vietnam," including those at Bates," says the event's organizer, Bates sophomore Khoa Pham of Saigon, Vietnam.
A Vietnam War veteran and associate professor of social work, Hermann began the SUNY Brockport Vietnam Program, the first study-abroad program of its kind in the Socialist Republic of Vietnam, in 1999. The program merges study and service in Danang, in central Vietnam.
Hermann has had extensive experience since 1964 with various international organizations and has published extensively on international issues. His third book, Lepers and Lunacy: An American in Vietnam Today (BookSurge Books, 2001), is an account of a war veteran who returned to Vietnam, only to discover that he had never really left.
Hermann is executive director of the Danang/Quang Nam Fund, a non-governmental organization that provides direct aid to the poorest of the poor in Danang City and in Quang Nam Province in central Vietnam.
Hermann also works as a consultant with 100 Vietnamese citizens seeking compensation for exposure to Agent Orange who joined in a class action suit against more than 30 chemical companies. According to Hermann, as many as two million Vietnamese are thought to be suffering from the effects of exposure to the herbicide widely sprayed in the jungles of Vietnam between the years of 1965 and 1970.
"It's a matter of simple justice that we attempt to meet the needs of those who have lived in contaminated areas of Vietnam for nearly 30 years," Hermann told CNN.
Nguyen Thi My Hoa is the Danang/Quang Nam Fund program administrator in Danang. She has been the program administrator for the SUNY Brockport Vietnam Program and critical to its success since its inception. She holds two degrees from Danang University.
This program is sponsored by the Bates College International Club.?
View Comments