Lecture to explore challenges to liberal arts education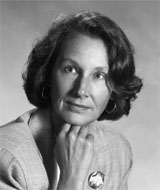 Author of the award-winning book Transforming Knowledge (Temple University Press, 2004), Elizabeth Minnich offers a talk titled From Ivory Tower to Tower of Babel? Liberal Arts Education and the Quest for Shareable Grounds at 4 p.m. Thursday, Jan. 20, in Chase Lounge, Bates College, Campus Avenue.
The visit by Minnich, a senior fellow in the Office of Diversity, Equity and Global Initiatives at the Association of American Colleges and Universities, is sponsored by the Harward Center of Community Partnerships as part of the examination of general education at Bates. The lecture is open to the public at no cost.
In a world in which boundaries of many kinds are ever more permeable, Minnich says, liberal arts institutions such as Bates are asked to do more and more: prepare their students for an increasingly globalized culture and economy; turn "diversity" from a problem into a valued resource; and develop the essential skills of mind and habits of the heart for all these tasks.
Such institutions are also asked to provide a time and place for research and reflection, and support practices of engagement on and off campus in service to the public good. "We cannot keep adding to what we do," she says. "How, then, are we to locate core commitments that may allow us to create shareable ground that is neither too narrow nor too scattered and superficial?"
Just released in an expanded second edition, Minnich's Transforming Knowledge received the Association of American Colleges and Universities' Frederick W. Ness Award for "best book in liberal learning" in 1990.
Minnich has served higher education in different roles at a variety of liberal arts institutions as well as through her writing, speaking, special projects, board memberships and consulting. She has published in scholarly journals, serves on the editorial boards of six academic journals and is series editor for The New Academy, a Temple University Press series of anthologies focused on contemporary critical, creative scholarship and teaching.
Her consulting work has taken her to more than 100 colleges, universities and independent schools, and she has worked with the Ford, Kettering and Carnegie foundations and the National Endowment for the Humanities, among other philanthropic organizations.
As an academic administrator on the undergraduate level, she has been a dean or director at Sarah Lawrence, Hollins, Barnard and Lang (formerly the New School) colleges. She has also been a dean at Union Institute & University's Graduate College for Interdisciplinary Arts and Sciences, and has taught at all of these institutions.
Minnich earned her master's degree and doctorate in philosophy from the Graduate Faculty of Political and Social Science of New School University in New York, where she was teaching assistant for Hannah Arendt. She wrote her dissertation on John Dewey and continues to work on issues of democracy and education, with particular focus on inclusive scholarship, curricula, teaching and institutional practices.
View Comments