French professor wins lifetime achievement award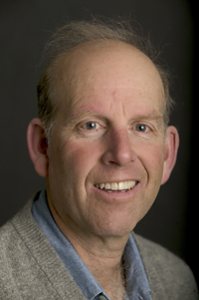 Richard Williamson, Charles A. Dana Professor of French at Bates College, recently received the 2005 Sister Solange Bernier Lifetime Achievement Award, given by the Foreign Language Association of Maine (FLAME), a non-profit organization that promotes and improves the teaching and study of foreign languages and cultures.
Named for a FLAME member whose career as a well-loved and well-respected French teacher spanned more than six decades, this lifetime achievement award recognizes the career-long accomplishments of those who are approaching retirement and who have demonstrated excellence in teaching and leadership throughout their careers as modern and classical language teachers.
Presenting the award to Williamson, FLAME President Laurie Littlefield described him as "a true treasure to foreign language teachers throughout Maine." An original founding FLAME member, Williamson "has been invaluable for years and has been a continuous supporter of language teachers in the state," Littlefield said.
Williamson received the FLAME Leadership Award in 1989 and was named Outstanding Teacher of French in Maine by the American Association of Teachers of French in 1994. The French government, in gratitude for his teaching French language and literature in the United States, named him Chevalier in the Order of the Palmes Académiques in 1997.
Williamson has been teaching all levels of French language, literature and culture since his arrival at Bates in 1975. A decade-long chairman of the Department of Classical and Romance Languages and Literatures, he created and directed the Fall Semester Abroad Program in Nantes, France, and has often visited Avignon with students during Bates' Short Term. In recent years, he has become increasingly interested in "la francophonie" and has visited Martinique and Senegal frequently.
Williamson earned bachelor's and master's degrees from Yale University and a doctoral degree from Indiana University. He edited Moliere's Les Femmes Savantes (New York: Hippocrene Books, 1996), and co-edited Toward a New Integration of Language and Culture (Middlebury, Vermont: Northeast Conference, 1988).
A resident of North Auburn, he and his wife, Deborah, have four children.
View Comments