Bates continues to receive high marks in major college guides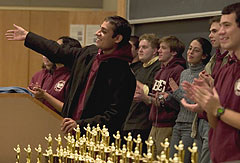 In the U.S. News & World Report 2006 edition of America's Best Colleges, Bates ranks 21st nationally among 215 liberal arts colleges. The magazine says its rankings are based on a mix of peer assessment, rates of student retention and graduation, faculty resources, admissions selectivity, financial resources and alumni giving.
Bates was ranked 22nd last year. Since 1987, with the exception of 1991, Bates' rank has ranged from 18th to 23rd. Bates also was included in U.S. News lists of top 26 liberal arts colleges for "least debt" and "economic diversity."
In April, Bates was named the nation's No. 1 "best value" college by The Princeton Review. The New York-based education services company features the school in its "Top 10 Best Value Colleges" ranking list in the 2006 edition of its book, America's Best Value Colleges.
According to a news release from The Princeton Review, the guide profiles 81 colleges with outstanding academics, generous financial aid packages and relatively low costs. It includes public and private colleges and universities in 35 states.
Bates also is among 81 unranked colleges designated "Colleges with a Conscience: 81 Great Schools with Outstanding Community Involvement" by The Princeton Review and Campus Compact.
The Princeton Review's Best 361 Colleges guidebook, which came out Aug. 23, quotes student comments that Bates is for those seeking "a high-paced rigorous academic college with a low-key, laid-back and fun student body and campus life" and that the college "focuses on students becoming critically and creatively thinking citizens of the world." The latest guidebook also lists Bates as No. 16 in the nation for "Best College Radio Station," and No. 17 for "Best Campus Food."
New to college-ranking publications this year is The Washington Monthly, which ranked Bates 22nd in a list of the nation's top 30 liberal arts colleges. The Washington Monthly list uses the percentage of students in Army or Navy Reserve Officer Training Corps, the percentage of graduates in the Peace Corps, the percentage of federal work-study grants used for community service projects, the total amount of research spending, the number of doctorates granted in the hard sciences and, as a measure of social mobility, the percentage of students on Pell Grants. "Other guides ask what colleges can do for you," the magazine announces in the September issue. "We ask what are colleges doing for the country."
Although it is not a college guidebook, the Teagle Foundation included Bates this year in its list of 13 "overachieving" liberal arts colleges singled out for both high graduation rates and Ph.D. completion by graduates.
View Comments