Fulbright scholar examines Muslim world during Bates residency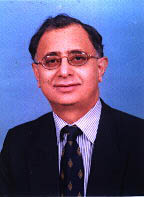 Ijaz Shafi Gilani, an expert on Pakistani public opinion and international relations, visits Bates College from Oct. 3 through Nov. 11.  A Fulbright visiting specialist with the Direct Access to the Muslim World program, Gilani is professor and dean of the faculty of social sciences at International Islamic University in Islamabad, Pakistan. He also heads Gallup Pakistan, an opinion and marketing research firm.
Gilani's six-week residency at Bates features a panel discussion and a lecture open to the public. Islam: Tribal Kinship and Democracy in South Asia and the Middle East pairs Gilani with the West Point-based U.S. Army Maj. Steve Alexander, who recently returned from Iraq. The discussion takes place at 7:30 p.m. Thursday, Oct. 6, in Chase Hall Lounge, 56 Campus Ave.
Gilani will present a lecture entitled United States and the Muslim World: Friends or Foes? at 7:30 p.m. Thursday Oct. 27, in the Edmund S. Muskie Archives, 70 Campus Ave.
Both of these events are sponsored by the Christian A. Johnson Endeavor Foundation and coordinated by the Bates College Harward Center for Community Partnerships. For more information, call 207-786-6195.
Gilani is eager, he says, "to exchange views and share expertise in my area of interest with American people in general as well as my counterpart professionals in the academy." The world, as well as the United States, he says, has changed dramatically during the 25 years since he completed his Ph.D. in political science at MIT. Gilani hopes that he will learn from his visit as well as "contribute to a better understanding among the American people and experts about how the Muslim world views them."
From 1991 to 1993, Gilani served as a special adviser to the prime minister of Pakistan and was chairman of the prime minister's committee for research and analysis, an in-house think tank.  He also served as project director at the Pakistan Institute of Development Economics, where he is an honorary senior fellow.
After receiving his doctorate from MIT, Gilani taught for 10 years in the department of international relations at Quaid-I-Azam University in Islamabad before moving to Gallup Pakistan. Gilani returned to academics to head the faculty of social studies at IIU in 2003, while retaining his leadership position in Gallup Pakistan.
While at Bates, Gilani will work with Matthew Nelson, assistant professor of political science, and Bates students. He will participate in a select number of educational presentations in Maine, including a Great Falls Forum lecture titled "Pakistan Speaks: Public Opinion and the Question of Democracy in Pakistan" at noon, Thursday, Oct. 20, at the Edmund S. Muskie Archives, Bates College, 70 Campus Avenue.
View Comments