Sangai Asia presents 'Asian Night Performance'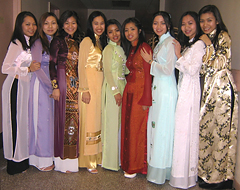 Sangai Asia, a student group at Bates College that promotes Asian and Asian American awareness, identity and fellowship, presents a cultural extravaganza titled "Asian Night Performance"  at 7 p.m. Saturday, Jan. 21, in Schaeffer Theatre, 305 College St. The public is invited to attend at no charge.  For more information, please call Bates student organizer Khoa Pham at 207-777-7811.
The presentation, co-sponsored by  the Women's Resource Center and the Multicultural Center, features a fashion show, dancing, singing and guitar playing spanning various Asian nationalities, including Cambodian, Chinese, Japanese, Korean and Vietnamese.
A special guest for the evening is Filipina poet Barbara Jane Reyes, a Mellon learning associate at Bates in the humanities and social sciences.
Central to the Asian Night Performance is a series of traditional Vietnamese dances conducted by the nonprofit Boston-based performing group Bon Hong Viet Nam, or "The Reflection of Roses." The group has appeared throughout the United States and Canada.
"The Reflection of Roses" consists of 10 or so professional female artists who will perform Vietnamese folk songs and dance wearing brightly colored outfits. Holding candles and fans, the women will sport traditional "ao dai" (long dress), while moving gracefully across the stage.
"'The Reflection of Roses" promises to deliver a truly mind-blowing series of talented moves and great music," says Pham, a junior from Houston, Texas.
View Comments