Bates alum pursues medicine with Jack Kent Cooke Fellowship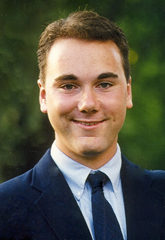 Jason Rafferty of Greenland, N.H., a 2005 magna cum laude graduate of Bates College, has received a prestigious Jack Kent Cooke Fellowship, one of the nation's largest graduate study awards.
Rafferty is one of 77 graduate and professional students chosen from among 1,100 applicants. The scholars come from 33 states and nine foreign nations. The scholarship, which can total up to $50,000 per year for up to six years, will allow Rafferty to earn a four-year medical degree at Harvard Medical School, followed by a one-year Harvard master's program in public health. Rafferty then wants to incorporate the principles of "narrative and care ethics" he saw in Ecuador when he served as a translator for North American doctors and the villagers they were treating.
"Patients, in their most vulnerable, emotional and uncertain states, allow the physician to draw near, often closer than friends and relatives," Rafferty notes. For this to happen in medically underserved communities in the United States, physicians must tune into "the patient's words, mannerisms and actions" to know how to give them effective care. Becoming a doctor, he says "is about serving, learning from and embracing others while using leadership to create positive community change."
"Our objective is to help high-achieving students who have financial need, whether they are attending a middle school in rural Kansas or Harvard Medical School," said Dr. Matthew J. Quinn, executive director of the foundation. "These scholarships recognize their devotion to education, reward their efforts and provide an incentive to continue excelling . . . and, we hope, to benefit society," Quinn said.
The Jack Kent Cooke Foundation is a private, independent foundation established in 2000 by the estate of Jack Kent Cooke to help young people of exceptional promise reach their full potential through education. It focuses on students with financial need.
Rafferty lives his mantra of leadership through service. As an EMT first-responder, he encourages patients to learn more about their illness "so they feel confident making decisions impacting their continued care." He did the same in his five summers as a volunteer at a teen center where he encouraged "self-discovery and healthy decision-making."
A remarkable researcher, Rafferty's Bates professors hope he continues with his research interests while practicing community medicine. Rafferty, says Nancy Kleckner, associate professor of biology and neuroscience, "is the best candidate for medical school that I have recommended in my 11 years at Bates." She was, says Kleckner, "amazed on a daily basis at what he was able to accomplish during his senior year in academics, leadership service and humanitarian life." Rafferty's lab research ranged from lead poisoning to stem cells, from dissecting brains of invertebrate snails to investigating HIV in chimpanzees.
His Bates experiences, says Rafferty, influenced his aspirations in medicine. "Engaging with the local community through volunteering and service-learning gave my education and career goals purpose. Class work in biology and neuroscience fostered my interest in understanding the underlying physiology of disease, but community projects, such as working as a hospice volunteer or as a local EMT, truly highlighted the personal side of caring for others," he says.
His interest in the personal side of medicine was further developed through a minor in philosophy, with a focus on ethics, along with and much work in medical anthropology at Bates and abroad. Rafferty graduated magna cum laude with a bachelor of science degree and honors in neuroscience and a secondary concentration in philosophy.
View Comments