Whitehouse Professor of Sociology Emily Kane challenges privilege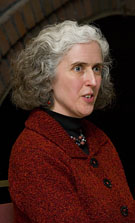 In celebration of her appointment as Whitehouse Professor of Sociology at Bates College, Emily Kane leads a panel discussion on Disrupting Privilege: Inequality, Community and Social Change at 4:30 p.m. Wednesday, Feb. 7, in Chase Hall Lounge, 56 Campus Ave., Bates College.
Panel participants include three of Kane's former students who now counsel, teach and advocate around issues of health, the environment and gender. A reception in Chase Hall immediately follows the presentation, and the public is invited to attend both events free of charge.
Kane is a graduate of Oberlin College, where she majored in sociology and completed an honors thesis addressing social and political tolerance. After three years of working in human resources, she earned a masters degree and a Ph.D. in sociology from the University of Michigan, where her dissertation focused on the role of ideologies in reproducing gender inequality in the contemporary United States. She began her faculty career at the University of Wisconsin-Madison, and joined the Bates faculty in 1996.
Chair of the sociology department and a member of the program in women and gender studies, Kane's Bates course offerings range from examining race and class to teaching quantitative and qualitative research methods.
Over the years, her teaching has been recognized with an Outstanding Teaching Assistant Award from the Department of Sociology at the University of Michigan (1989); the Departmental Citation for Excellence in Teaching (1991) the university-wide Chancellor's Award for Excellence in Teaching (1994) at the University of Wisconsin; and Bates' Kroepsch Award for Excellence in Teaching (1999).
Kane's scholarly interests include public opinion research on beliefs about inequalities of gender and race, as well as qualitative analyses addressing the production of gender through parenting. Her research has been supported by internal grants from the University of Michigan, University of Wisconsin, and Bates College, as well as by the National Science Foundation. Her published work appears in a range of scholarly journals, including Annual Review of Sociology, Gender & Society, Journal of Family Issues and Public Opinion Quarterly.
Long interested in race, class, gender and sexuality-based inequalities and in social change, since coming to Bates Kane has become increasingly interested in community engagement. Through the encouragement of the former Center for Service-Learning and now the Harward Center for Community Partnerships, her courses often include opportunities for service-learning and community action projects. This year, through support from a Mellon Learning Associate grant, she is developing community-based research partnerships with her students, who have worked on topics including minimum wage, home-buyer education, neighborhood perceptions and identity, and community participation in development. Additional courses featuring such community engagement include "Unequal Childhoods," which she will team-teach with Professor Georgia Nigro during Short Term 2007, and a seminar on "Public Sociology," which she will teach for the first time in fall 2007.
Kane succeeds Nigro and John Kelsey, professors of psychology, to become the college's third Whitehouse Professor.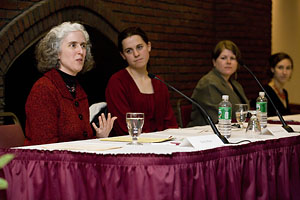 Three of Kane's former students will participate  in the panel discussion. Rebecca Gasior Altman, Bates Class of 1999, is a doctoral candidate in sociology at Brown University, where her current research and teaching interests include "green" health care, health social movements, food security, public participation in science, and the role of science in how marginalized groups organize for environmental health and justice.
Christine D. Tronnier is a clinical social worker at John Umstead Hospital, a state psychiatric facility in Butner, N.C., where she has worked with children and adolescents as well as on the adult admissions unit.
Kimberly Whipkey, Bates Class of 2006, serves as the Maine grassroots organizer for Planned Parenthood of Northern New England, an organization committed to providing, promoting and protecting access to reproductive health care and comprehensive sexuality education.
The Whitehouse Professorship was established in 1985 with a gift to the endowment from David '36 and Constance Whitehouse. Born and raised in Auburn, Whitehouse earned his M.B.A. from Harvard University after graduating from Bates. He served in leadership positions at the Container Corporation of America his entire career, retiring in 1980 as vice president. The Whitehouses passed away in the spring of 2000 and are survived by four adult children
View Comments