Devin Dilts '11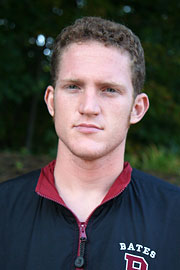 Devin Dilts '11 made a splash in his first collegiate 8-kilometer race on Saturday, running the fourth-fastest time for a Bates male at Tufts University's home course in Grafton, Mass., at the annual Jumbo Invitational.
Dilts (Roscoe, Ill.), who transferred to Bates from Vanderbilt University this fall, crossed the finish line in 27:20.22 and placed fourth overall out of 84 competitors in the 8K, which was run on an adjusted course that likely measures a bit more than 8,000 meters. The Bobcats finished third out of 10 teams in the race, and Dilts earned NESCAC Men's Cross Country Performer of the Week honors.
Bates next competes at the Wesleyan Invitational on Sept. 27.
View Comments