Brittney French '11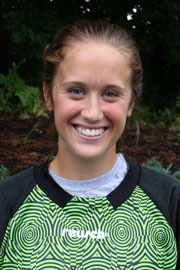 Brittney French assumed the starting goalie position on the Bates women's soccer team this year after the graduation of Nini Spalding '08. She was put right to work in the Bobcats' season opener on Saturday, a 2-1 loss in which the visiting Ephs launched 40 shots toward French's goal.
French (Auburn, Maine) stopped 16 shots, the most saves by a Bates goalie in over five years, helping to keep the game close against the No. 1 ranked team in New England and the defending NESCAC champions. In addition to leading the NESCAC in saves per game after one game, French is sixth in save percentage (.889).
French and the Bobcats host Wellesley College Thursday in a non-conference matchup.
View Comments