Jen Marino '09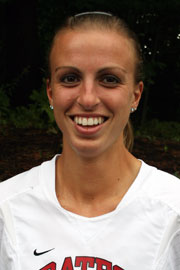 Senior forward Jen Marino (Methuen, Mass.) scored almost immediately after entering the game in the 19th minute during the first half of Bates' 4-1 women's soccer victory over Wellesley College, putting the Bobcats up 1-0 after converting a cross from first-year forward Samantha Alper (Holliston, Mass.). Twenty minutes later, Marino struck again, measuring up a blast from about 15 yards out after an assist from sophomore Kim Suvak (Winchester, Mass.), this time putting the Bobcats ahead 3-0 en route to the team's first victory of the season.
Behind Marino's two goals and Alper's two assists and one goal, the Bobcats dealt the visiting Blue their first loss of the season. Wellesley had been ranked No. 8 in New England, largel on the strength of an earlier win over nationally ranked Skidmore.
Marino and the Bobcats play host to Babson on Thursday in another non-conference contest, before heading to Tufts University for a NESCAC game on Saturday.
View Comments