Shakespeare scholar discusses white literary criticism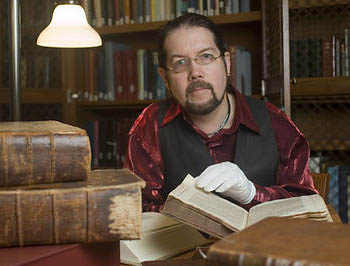 Gary Taylor, George Matthew Edgar Professor of English at Florida State University, discusses Shakespeare and the Origins of White Literary Criticism at 7 p.m. Thursday, Sept. 25, in Chase Hall Lounge, 53 Campus Ave. The public is invited to attend this presentation, followed by a reception, free of charge. Sponsored by the Department of English, the talk is made possible by the Emily Carroll Carleton Lecture Fund given by the King Family Charitable Lead Trust in honor of Emily Carroll Carleton '99.
"Gary Taylor is the most adventurous and productive thinker in Renaissance studies today," says Christina Malcolmson, professor of English at Bates. "He has transformed the fields of the editing of Shakespeare's texts, early modern masculinity and the analysis of race before the 19th century."
In his book Buying Whiteness: Race, Culture, and Identity from Columbus to Hip Hop (Palgrave, 2005), Taylor demonstrates that the terms white and black became racialized in the second half of the 17th century in England and the British colonies, says Malcolmson. He argues that this racialization is fundamental to the institutions of British law, religion, science and politics. In his Bates lecture, Taylor takes on the institution of literary criticism.
Taylor has worked to communicate contemporary literary theory and criticism to a mass audience through newspapers, radio, TV and theatres in North America and the United Kingdom.
Taylor is general editor of the Oxford editions of Shakespeare's Complete Works (1986, 2005). As general editor of The Collected Works of Thomas Middleton (Oxford University Press, 2007), he has brought to the attention of the public one of the best playwrights of the Shakespearean era. He is also general editor of two series published by Palgrave, Signs of Race and History of Text Technologies.
Director of the interdisciplinary History of Text Technologies program at FSU, Taylor has written about the practice and theory of editing in various periods and genres; in 1995 he served as one of the judges of the first MLA prize for editing, and in 2006 gave the McKenzie lectures at Oxford University on Edward Blount, the chief publisher of the 1623 Shakespeare folio.
Taylor's Moment by Moment by Shakespeare (MacMillan, 1985) received a Choice Award for "Outstanding Academic Book." His other books include Reinventing Shakespeare (Oxford, 1989), a history of Shakespeare's reputation that a Shakespeare Quarterly reviewer called  "the most ambitious book on Shakespeare ever written";  Cultural Selection (Basic Books, 1996),  a theory of artistic reputations that The New York Times Book Review cited as "an original and striking analysis of culture"; and Castration: An Abbreviated History of Western Manhood (Routledge, 2000), called "terrific reading" by Salon.com.
For more information about the lecture, please contact Catherine Griffiths at 207-786-6237 or cgriffit@bates.edu.
View Comments