Debate tourney canceled; Yale debate postponed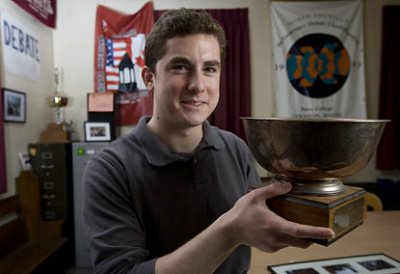 Due to unforeseen circumstances, the following tournament has been canceled, and the Bates-Yale debate has been postponed with a new date and time to be announced.
The Brooks Quimby Debate Council hosts an American Parliamentary Debate Association Tournament at Bates College on Friday, Feb. 27, and Saturday, Feb. 28.
As tournament host, the Bates team won't debate in this competition.To keep the squad limber, however, Bates team members will debate the Yale University team at 8 p.m. Thursday, Feb. 26, in Chase Hall Lounge, 56 Campus Ave.
They will debate the issue, "This House believes that the United States should end the ban on media coverage of U.S. soldiers' bodies returning home."
The match is open to the public free of charge. Audience members are encouraged to participate with cheers, jeers, questions, comments and floor speeches.
The Yale squad is currently the top debating team in the United States, while Bates is the sixth-ranked U.S. team, says Bates debater Alison Vingiano, a sophomore from Hastings-on-Hudson, N.Y. Coached by director of debate Jan Hovden, Bates debaters are sophomore Nate Sweet of Sharon, Mass.; senior Jared Levy of Ardmore, Pa.; and senior Geoff Shaughnessy of Hanover, N.H.
The Yale debaters will include junior Grant May, who is ranked as the seventh-best speaker by the American Parliamentary Debate Association. The two other Yale debaters will be announced.
Vingiano predicts "an exciting, competitive exchange between two of the country's top debating teams."
The Bates vs. Yale match precedes the debate tournament. Competing university and college teams take part in five preliminary rounds beginning 5 p.m. Friday, Feb. 27, and continuing through Saturday, Feb. 28. The final round, open to the public at no charge, will begin at about 4:30 p.m. Saturday in a location to be announced, followed by an awards ceremony.
For more information about the debate, please contact Alison Vingiano at avingian@bates.edu.
View Comments