Vecsey reads Holocaust memoir sequel by Isaacson '65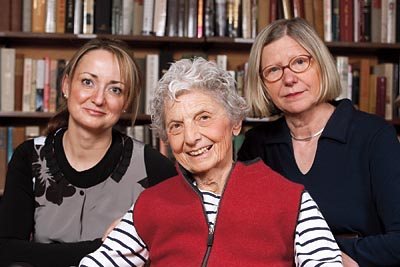 Last winter, Judith Isaacson '65, LL.D. '94 got to hear her own words during a reading at the Lewiston Public Library by Katalin Vecsey, who read selections from Isaacson's Seed of Sarah, a memoir published in 1990 that recounted her Holocaust experiences at the Auschwitz-Birkenau and Hessisch Lichtenau concentration camps.
Vecsey, who like Isaacson is originally from Hungary, also read from Isaacson's forthcoming sequel, to be published in German in a translation from English by Gerda Neu-Sokol, lecturer in German at Bates. One story in the new memoir tells of Isaacson traveling to Hungary in 1977 to research Seed of Sarah and meeting an elderly man on a train. As they spoke, the man discovered the reason for Isaacson's visit. Silence then fell between them. Finally he haltingly revealed a secret never before shared with anyone: He had been a worker on the trains that brought Jews to the death camps.
View Comments