Senior wins U.S. Critical Language Scholarship to study Chinese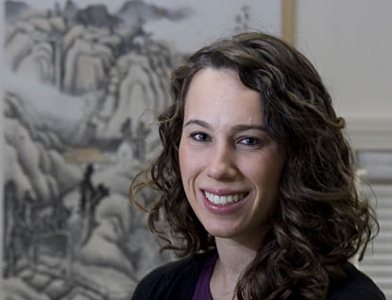 Anna Levy, a Bates College senior from Portland, has received a scholarship from the federal government to study Mandarin Chinese this summer in a program in Harbin, China.
Chinese is one of 11 languages taught through the U.S. State Department's Critical Language Scholarship Program. A Chinese major who spent part of her junior year studying in China, Levy was awarded a Critical Language Scholarship to attend an intensive 10-week language program at Heilongjiang University, hosted by Hendrix College of Conway, Ark.
"They say that the two months studying there is equivalent to an entire year of college study," explains Levy, who speaks Mandarin at the intermediate level. "I'm just so grateful that it's giving me the opportunity to go back to China and learn."
Levy, who also speaks French and would like to learn Arabic and Hebrew, is passionate about the value of cultural immersion for cross-cultural understanding and for personal development, as well as language proficiency.
"I've really developed a sense of who I am in my time studying abroad – understanding what my values are and my perspectives on the world, and developing my own opinions," she says. "Bates has taught me to be a critical thinker, and I'm really able to apply those skills when I'm abroad."
Levy spent the winter semester of her junior year studying in Kunming, in southwest China. She lived with a professor of English and her daughter. The experience was eye-opening.
"I went into China thinking, OK, I'm going to live with a family; the conditions are going to be different" from what she's familiar with, Levy says. "And then I got there, and I had my own bedroom, my own bathroom, a woman coming in to cook our meals every day" — a level of affluence she didn't expect.
"It really taught me a lot about what's representative of middle-class Chinese society today."
She adds, "I also had the opportunity to live with a rural family for a week, which was the complete opposite. My room was next to the cows and pigs, and they had a little bathroom built outside. So it was really unbelievable to have these two different experiences, living with a modern urban Chinese family and a rural family."
Levy, who hopes to have a career in conflict resolution, found her first Chinese sojourn an invaluable study in appreciating others' viewpoints. "Before making judgments on another culture, it's important to really immerse yourself in that culture and make judgments based on their values. That's so important to build mutual understanding."
The State Department's Critical Language Scholarship Program was launched in 2006 to offer intensive overseas study in the critical-need languages of Arabic, Bangla/Bengali, Hindi, Punjabi, Turkish and Urdu. In 2007, Chinese, Korean, Persian and Russian institutes were added, and this year, Azerbaijani will be offered.
The program is part of the National Security Language Initiative, a U.S. government interagency effort to dramatically expand the number of Americans studying and mastering critical-need languages. The program has no government service requirement upon completion
View Comments