Navigating rough economic seas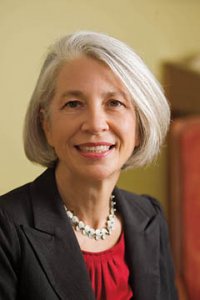 A new genre of presidential letters, memos, columns, and blogs has sprung up on most college campuses in response to the ongoing global financial turmoil.
Demonstrating a greater sense of accountability and transparency than ever before, higher education leaders offer different details but all try to balance two messages. On one hand, we speak with both urgency and candor about budget cuts, sacrifices, and contingency plans. On the other hand, we reassure our stakeholders that we will not only survive this crisis but use it to grow stronger, with core values intact.
I have thus far contributed three letters to this outpouring. Each letter emphasizes how our response to rough economic seas is rooted in the character of the College. Bates is prepared by longstanding habits of heart and mind to economize and to be entrepreneurial, and our efforts are as always collective and sustained.
In the most immediate term, it's all hands on deck to control costs, maintain revenues, and balance our fiscal 2009–10 budget in the face of diminished endowment performance.
This is not new or unwelcome work here; sound fiscal management has earned Bates a reputation for academic excellence that far outstrips our financial resources. Every department is pursuing greater frugality on the operations side, for example, through a Cost-Saving Initiative piloted by our Department of Human Resources.
We still plan to invest now in faculty excellence and financial aid. Planning for the next phase of the Campus Facilities Master Plan is getting under way, as we look to future improvements that will be critical to our educational excellence, including space for residential life, for research and teaching in the sciences, and for athletics and wellness.
On the revenue side, we have seen an enormous growth in the culture of philanthropy at Bates. We have a robustly emerging habit of asking for and receiving your support to keep Bates strong for future generations. In the short term, we are focusing fundraising efforts on the Bates Fund, whose revenue makes up about 5 percent of the annual operating budget. New and better ways for those who care about Bates to give of their time are also in the offing.
For the longer term, thinking and acting strategically have never been more critical, and we know the ropes here, too. Through multiyear budget planning we have a tool for considering multiple scenarios and giving serious thought to an array of options. Following up on the institutional planning work that began last year, three faculty/staff teams are now developing strategic initiatives focused on:
the innovative learning agenda at Bates, enhancing the student experience as well as faculty teaching and scholarship;
the natural sciences and mathematics, strengthening both curricular and physical infrastructure;
the arts at Bates and in the community, extending the reach and visibility of our creative campus.
Around each initiative we will implement short- and middle-term projects by redeploying existing resources and by fundraising. Looking out further, our planning process will help us monitor what is changing in the environment and how we can respond now to be ready for the future.
Lasting change grows organically from the strengths of a culture, as its champions embrace the possibilities always inherent in the challenges. This college has never grown accustomed to plain sailing. The first president mortgaged his house to meet debts related to the institution, which in its infancy could easily have succumbed without the financial support of both Sunday school children and philanthropists like Benjamin E. Bates.
As Professor Emeritus of History Jim Leamon '55 notes, early Bates students "found moral advantage in their hardscrabble reputation." At the same time, President Cheney believed in and worked for nothing less than a grand concept. Raising money to build Hathorn and Parker, he reminded the leading citizens of Lewiston that smaller facilities would suffice for an ordinary school but not for an institution intended "for coming time."
During the Great Depression, Bates never cut faculty or staff, nor ran deficits. Reacting to increased competition for students and their greater needs, Bates doubled its financial aid over a six-year period early in the decade and increased its spending on recruitment later in the decade. In 1936, Harry Rowe '12, the longtime lieutenant to Bates presidents, summed up the Bates philosophy: "A holding-our-own policy will not do."
In 2009 we will draw on these inspirational ancestors even as we look forward, not backward, and we will call on our entire community of talented faculty, dedicated staff, ambitious students, and generous supporters.
By Elaine Tuttle Hansen
View Comments