President Hansen guest at media roundtable on higher education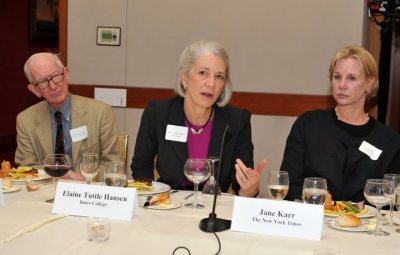 Nine college and university presidents including Bates President Elaine Tuttle Hansen were invited to join about two dozen members of national news media recently in a dialogue on higher education.
The 22nd Annual Higher Education Media Roundtable was hosted by Arizona State University President Michael Crow at the Harvard Club in New York City on Nov. 4, 2009.
National media outlets included National Public Radio, NBC, The New York Times, The Wall Street Journal, Nature, Time, Newsweek, Kaplan/Washington Post, The Chronicle of Higher Education, University Business, The New York Review of Books, Bloomberg News, and Inside Higher Ed.
College and university presidents and chancellors participating where Alice P. Gast of Lehigh University; David W. Leebron of Rice University; Harris Pastides of the University of South Carolina; Freeman A. Hrabowski III of the University of Maryland, Baltimore County; John J. Neuhauser of Saint Michael's College; Kent Hance of the Texas Tech University System; Robert C. Holub of the University of Massachusetts, Amherst, and presidents Crow and Hansen. Communications officers from each of the institutions also attended the meeting.
Discussion topics were broad-ranging and included: assessment, access, K-12 teacher education,
the impact of economic forces on higher education, three-year baccalaureate programs, tenure, swine flu, President Obama's education policy, and the increasing academic and socio-economic stratification of higher education.
View Comments