Turning Points: Fall 2009
A selection of news items from the Fall 2009 issue of Bates Magazine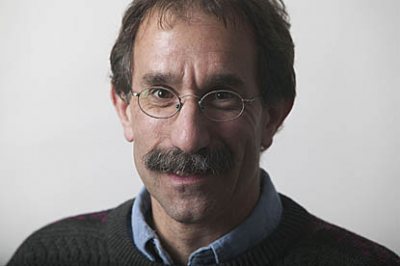 AWARDED The American Chemical Society's 25th Award for Research at an Undergraduate Institution, to Charles A. Dana Professor of Chemistry Thomas Wenzel. The award honors faculty whose research is widely recognized and who contribute significantly to both the field of chemistry and the professional development of students.
Also:
An NSF grant of $367,046 to Holly Ewing, assistant professor of environmental studies, for research into the role played by certain bacteria in lake eutrophication — a phenomenon, problematic in Maine, where excess nutrients reduce water quality and promote algae blooms. Ewing is collaborating with colleagues at Dartmouth and the Cary Institute of Ecosystem Studies. The grant was funded with federal stimulus money.
A $338,088 grant from the U.S. Defense Department's "Defense Experimental Program to Stimulate Competitive Research" to Nathan Lundblad, assistant professor of physics, for an examination of the behavior of electrons at temperatures close to absolute zero. This is Bates' first DEPSCoR grant, and the College is the only U.S. liberal arts college and Maine's only academic institution to receive one this year.
A $128,926 NSF grant for research exploring how witness and interviewer interactions affect the accuracy of legal testimony, by Associate Professor of Psychology Amy Douglass and colleagues in Australia.
PROMOTED To tenured positions as associate professor: Ryan Bavis, biology; Patricia Buck, education; Alexandre Dauge-Roth, French; Carol Dilley, dance; and Krista Scottham, psychology. From associate professor to professor: Rebecca Herzig, women and gender studies, and Lynne Lewis, economics.
DEBUTED In September, the first significant restructuring of the Bates Web site since 2001. The new framework, focusing on top-tier pages and the "Bates Views" site for news and stories, runs on the blog engine WordPress and, according to CollegeWebEditor.com, is effective not because of "fancy graphics or animations" but because Bates went beyond the "usual navigation scheme, useful links, and beautiful campus photos" to feature "real stories about students, faculty, and staff." The site got kudos for its navigation, dynamic architecture, and use of photo galleries featuring storytelling captions.
PUBLISHED The Nature of Difference: Sciences of Race in the United States from Jefferson to Genomics, examining how conceptions of race and scientific practices have informed each other in American history, by editors Rebecca Herzig, professor of women and gender studies, and Evelynn Hammonds, professor of the history of science and of African and African American studies at Harvard (MIT Press, 2009). Honorable Harvest: Shakers and the Natural World, describing how the Shakers' religious beliefs and practices accommodated the lands where they lived and worked, by Carl Benton Straub, professor emeritus of religion and Clark A. Griffith Professor Emeritus of Environmental Studies (Shaker Press, 2009).
INSTALLED A new gym floor at the Boys & Girls Club of Auburn-Lewiston by community and Bates volunteers, on Sept. 26. Buying the floor was a $50,000 grant won last winter by Catherine Elliott '12 of Edina, Minn., who entered a contest run by KABOOM! and yogurt maker Stonyfield Farm, for which she collected the most used yogurt lids: 4,679.
REACHED The 2008–09 Bates Fund  goal of $4.3 million, giving the College an accomplishment "that very few other colleges can claim in this economic climate," said Kelly Kerner, vice president for College advancement.
DIED Alison M. Dumont, who joined the Dining Services staff in 2005, on Sept. 13, at 38; and Laurence M. Fortier-Goulet, a catalog assistant in the College library from 1971 through 1987, on July 3, at 89.
View Comments