Function and beauty come together in Bates ceramicist's work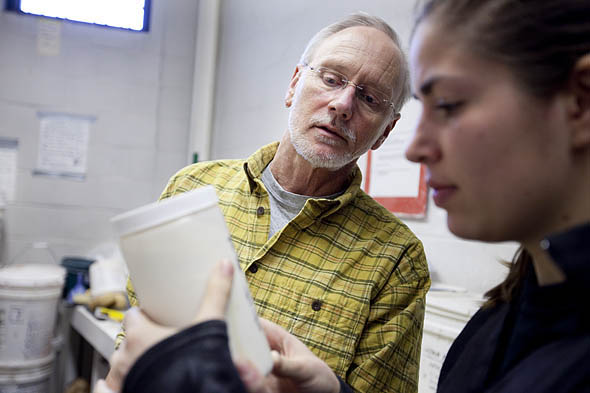 By Marielle Vigneau-Britt  '10
Paul Heroux has been described as a "painter who uses clay as his canvas." His ceramics are pleasing to both the eye and the touch, and afford a comforting impression of domesticity while still managing to thoroughly impress. A rich array of colors, patterns and textured marks render each piece singular and exciting in its own right.
Heroux has taught ceramics at Bates for 27 years. He is one of 15 members of the Maine Crafts Association showing work in The Inspired Hand IV, an exhibition in the Atrium Gallery at the University of Southern Maine's Lewiston-Auburn College. Also including works in wood, jewelry, fiber, book arts and mixed media , the exhibition runs until March 26.
Heroux's work may appear strictly sculptural. During his studies at the School of the Museum of Fine Arts in Boston, however, he was not always devoted to sculpture. "I did most of my five years majoring in painting," he says. "Then, really through the last two years there, I realized that I could use that painting experience and transpose it to a three-dimensional form."
Heroux regards each of his ceramic three-dimensional forms — plates, vases and so on — "like a blank canvas without a lot of texture or marks on it." He'll spend one or two months making 50 to 75 forms, and then builds up glazes on them, followed by a layer of a wax solution. Once this layer is set, Heroux scratches through the wax into the glaze to make lines that he can fill in with a second glaze or a stain or color. It's a process sometimes called "sgraffito" (the Italian word for "scratched").
Born in southern New Hampshire, New Gloucester resident Heroux has lived in Maine for 37 years. Living in the countryside for the past three decades, surrounded by white pines in a house that he built himself, has influenced his work.
"The pine tree motif is in a lot of my work, in bits and pieces," he explains. "I spend a lot of time looking at the form of the tree, the branches, and I often try to incorporate that in my work." Indeed, when looking at his reduction-fired stoneware plate in Inspired Hand, one can decipher outlines of what could be leaves.
But his inspirations are broad. "The surface treatment has very much to do with the season of the year, what I might be reading, a film that I might see. So I try to work with whatever is in my life at the moment."
What does Heroux want the viewer to take away from his work? "I'm not trying to actually tell a story. I'm hoping that they'll take an impression away, but I also consider myself a decorative artist trying to make seductive work in some visual way."
While Heroux often displays his work in craft shows throughout New England, New York and New Jersey, he's wary of hard distinctions between craft and fine art. "I think that artists shouldn't actually be categorized as being fine or craft [artists]," he says. But he does allow that "in terms of whether you're painting on canvas or making a photographic print or making a pot, if you're making one-of-a-kind pieces, I feel that using 'art' to describe your work is valid."
Heroux wants people to engage with his ceramics more than in a visual way. He wants the pieces to be practical as well as beautiful. "I make a lot of vases because they're one thing that can be very decorative but also very useful."
Would he approve of seeing one of his pieces bearing the main dish at Sunday dinner? "I would love it," he says. "Absolutely. I think that to really be experienced and appreciated, crafts should be touched and used."
View Comments