Power by the People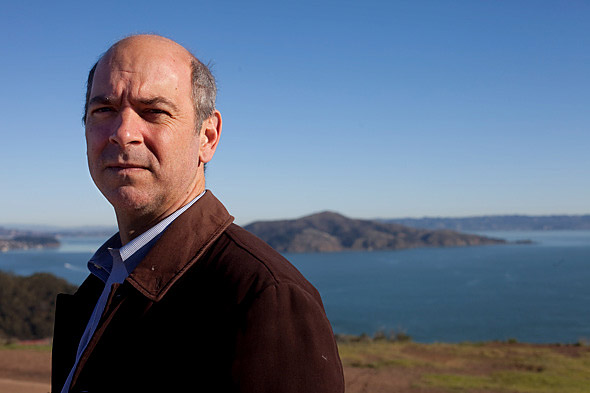 Energy entrepreneur Paul Fenn '88 and his bates brain trust are at the front of Northern California's green-power revolution
By Bryce Hubner '00

Fifteen years ago, as a young, idealistic, and naive aide to a Massachusetts state senator, Paul Fenn '88 had a big idea: Allow local governments to bypass traditional utilities to create their own electricity purchasing collectives.
He called it Community Choice Aggregation, and he hoped CCA would give municipalities the power to pursue greener electricity options.
So he wrote up a bill — which was quickly laughed out of the Massachusetts State House. "It was an awkward moment," Fenn says.
Today, Fenn is still idealistic but far less naive. As founder and president of San Francisco-based Local Power Inc., he is smack in the middle of a Northern California electricity revolution that could change the way power is generated and delivered to millions of citizens in the San Francisco area.
Right now, two influential California communities — the city of San Francisco and Marin County — are swiftly moving to adopt the state's first CCA policies. These green energy agreements, supporters say, will deliver never-before-seen levels of renewable energy: 51 percent in San Francisco and 75 percent in Marin County, respectively.
Meanwhile, the agreements would meet or beat the electricity rates offered by current electricity provider Pacific Gas & Electric.
"If successful, these programs will be world leaders in climate action and green-power development," Fenn recently told The New York Times.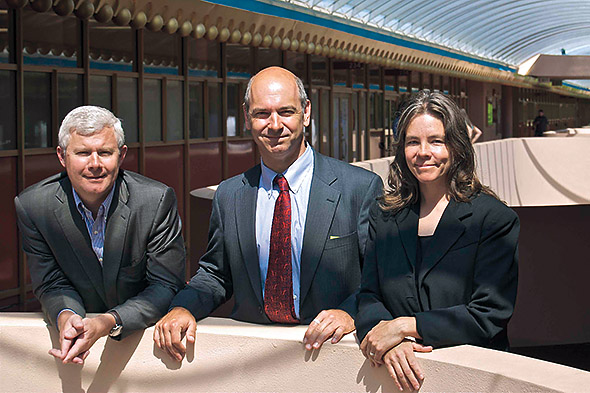 The CCA concept in California owes its existence to Fenn and Local Power, whose Bates-flavored corporate brain trust includes, among others, co-founder and CFO Julia Peters '86, who is married to Fenn; co-founder and COO John Cutler '86; and adviser Bradley Turner '87 of Booze Allen Hamilton, a lawyer and contract expert in public-sector projects.
A decade ago, in the wake of crippling energy shortages blamed in part on utility company mismanagement, California sought ways to improve the state's electricity market. Fenn, by then in California, wrote another CCA bill, and this one was embraced and adopted in 2002.
Basically, a CCA replaces the traditional investor-owned utility with a local organization that can control the types of power it procures, explains Severin Borenstein, co-director of the Energy Institute at Berkeley's Haas School of Business.
"A CCA is usually established by a community that feels its big power company isn't buying the types of green power it wants," he says. Enter progressive-minded Marin County and San Francisco.  CCAs are uniquely positioned "integrators," Fenn recently told the Times. "They don't…have conflicts like [owning] old power plants and transmission lines."
In Marin County, Fenn's Local Power competed with the big boys in bidding to provide new, local, and green electricity. As of mid-winter, Shell Energy North America was the lead bidder for the Marin CCA.
In San Francisco, where Fenn authored the local CCA ordinance, the stakes are perhaps higher for Local Power. In October, the city officially hired Local Power to coordinate the city's CCA effort, known as CleanPowerSF. Thanks to Fenn, the CCA has some financial oomph: a bond authority mechanism to allow more than $1 billion in green power investment.
"The idea is to create some investment strength and leverage," he says, "so that the CCA doesn't just negotiate to buy power, but also issues bonds, builds renewable energy infrastructure, and then buys power from it."
Why has the CCA movement gotten the incumbent utility, Pacific Gas & Electric, so steamed?
In response, Pacific Gas & Electric is now sponsoring a statewide ballot initiative that would require two-thirds voter approval before a local government could form a CCA involving public investment. Considering that the time of day might not win a two-thirds majority in any state, the California ballot measure, if passed, would effectively kill the CCA movement. (In fact, the Sierra Club of California has sarcastically suggested that the ballot measure be renamed "The Utility Monopoly Protection Amendment," or "ThUMPA.")
Why has the CCA movement gotten the incumbent utility, Pacific Gas & Electric, so steamed? Just follow the money. The Marin Energy Authority estimates that its CCA will cost PG&E as much as $94 million annually in Marin County alone. PG&E has already spent $3 million to acquire signatures to send the initiative to ballot in June, and some reports suggest PG&E is ready to spend up to another $100 million to bull the initiative through.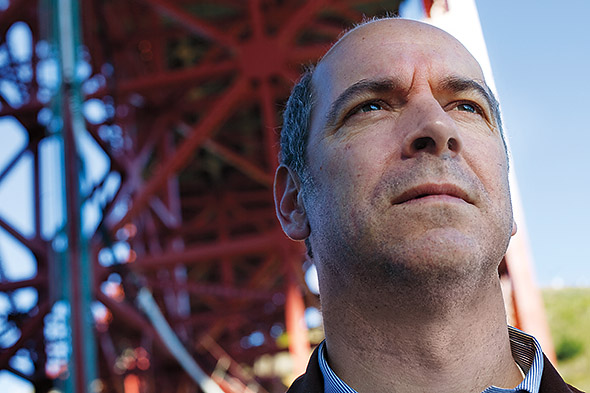 Fenn, meanwhile, tries to remain equal parts Zen master and Erin Brockovich. "You know how it is," Fenn says. "First they ignore you, then they laugh at you, then they attack you, and then you win. We're in the attacking stage now, which is nice."
More than a decade ago, Paul Fenn and Local Power arrived on the Bay Area scene in what amounts to a fascinating amalgamation of scholarship, activism, politics, and business.
A history major at Bates, Fenn was so consumed by his thesis on the "medicalization of madness" that he shaved half his head and half his beard for six months just so he could "see how people responded to someone who looked mad." His method went beyond madness, as Fenn's thesis won highest honors and the Ernest P. Muller Prize as the outstanding history thesis.
After Bates he traveled to Berlin, where he was a rabble-rousing civil rights activist with the left-wing (and often militant) Autonomen movement. Later, he earned a master's in intellectual history at the University of Chicago, where he got interested in energy policies.
Particularly interesting to Fenn was emission credit trading, at the time just beginning at the Chicago Board of Trade. Fenn says he arrived at studying commodity structures as an historical phenomenon by way of a "Marxist-Hochstadtian" perspective ("Hochstadtian," he explains, being a reverent nod to former Bates history professor Steve Hochstadt), further informed by the Marxist philosopher Georg Lukács, "who basically said that the problem with the world is the commodification of everything." That is, we want everything to be tradeable.
Fenn's first real job came in 1994, when he joined the staff of a Massachusetts state senator, Mark Montigny, who had just been appointed chair of the Committee on Energy. Fenn took the job so he could write a bill on energy policy that treated electricity as a "physical and local thing rather than simply a commodity."
The nation's first-ever CCA bill, Massachusetts Senate Bill 447, was submitted by Montigny in December 1994. But shortly after the bill was filed, Montigny was stripped of his chairmanship after a losing political battle with then-Senate President Billy Bulger.
A bitter political lesson followed. Fenn learned what happens when a legislator submits legislation that no one wants. "Everybody was really pissed off," Fenn says. "I mean, I just cooked up the bill. Nobody was asking for it, no cities wanted to aggregate, no environmental groups wanted city government involved, and the utilities were obviously against it."
He was quickly out of a job, but the idea didn't die. Two years later, with deregulation being encouraged at the federal level, CCA was part of sweeping deregulation of Massachusetts utilities. Several communities on Cape Cod later established the Cape Light Compact, the nation's first CCA.
"I felt like the only openly Republican, and Paul was an eccentric socialist," Cutler says. "But we appreciated each other's candor."
Fenn soon headed to California, where he began his environmental and energy advocacy and, at times, worked for good friend John Cutler '86, who recalls their initial interactions at Bates. "I felt like the only openly Republican, and Paul was an eccentric socialist," Cutler says. "But we appreciated each other's candor."
Cutler was involved with a San Francisco startup that eventually became T-Mobile USA. In the late 1990s, he needed help executing a massive wireless effort in the Czech Republic, and turned to his cerebral friend Fenn. "Paul could be injected into almost any situation and get the job done," Cutler says.
The Czech project required competitive bidding for an operating license plus infrastructure work at more than 700 sites — just the kind of logistical nightmare Local Power will face if they hope to bring large-scale green energy to the Bay Area.
CleanPowerSF proposes to bring 360 megawatts of green power into San Francisco, and Fenn knows he'd be laughed into Nevada if he promised to deliver the goods with just one sustainable source.
"The complexity of our venture has to do with a decentralized model," he explains. "The energy we're trying to bring to San Francisco would normally equal one big power plant. We'll have to build a thousand small, green generators to hit that number. This is why our experience with telecommunications and wireless networks has been invaluable: Those companies deal with thousands of sites to deliver a product, and so will we."
Fenn initially founded Local Power in the 1990s as a nonprofit to advance green energy at the grassroots and government level. Fenn, joined by Cutler, decided to incorporate in 2007 to provide consulting services and "energy intelligence tools" to aid the CCA movement. "The private sector moves a lot faster because money is the bottom line," Fenn says. "Government, by nature, is risk-averse, slow, and conservative. But the planet's running out of time."
Nationally, the CCA concept is applauded for empowering communities to make decisions about what types of energy they procure. (CCAs are in place in Massachusetts and Ohio and, while not technically a CCA movement, Maine's utility deregulation a decade ago has allowed Bates and other Maine entities to buy their own green power.)
But Fenn's vision of large-scale CCAs offering green power at "meet-or-beat" utility rates is met with skepticism. Conventional wisdom says that delivering green power on a massive scale and as cost-effectively as traditional utilities is impossible. Renewable energy sources, like wind and sun, are too site-specific and only intermittent. Power grids are fragmented, so you can't transport energy over long distances with any real efficacy.
"CCAs can be organized as amazing opportunities to purchase green energy," says Borenstein of Berkeley's Haas School. But, he adds, when a CCA decides to ramp up on more expensive technology and power, like solar or wind, prices will go up just as they would for a major utility. "Meet-or-beat rates are implausible," he argues.
Fenn says critics fail to appreciate how bond financing is not like a typical business loan. "Bonds change the economic equation profoundly," he says. "The cost of power can be brought down to reasonable levels based on a long-term investment approach."
For example, he says, private banks once said it was too expensive to build massive bridges like the Golden Gate Bridge and that the paybacks were too slow. "That's why public finance authorities were created to build them. The same argument applies to solving climate change. We need brick and mortar and hardhats — not just market transaction windfalls and commodity fetishism."
Fenn knows what's at stake for the emerging green CCAs in Marin and San Francisco. Victory in Northern California could presage a national green-power revolution. But if the two CCAs fail — quite possible if the PG&E–supported statewide ballot measure passes in June — it could mean death for the entire CCA movement.
Fenn is now older and wiser but still no politician.
Speaking before a San Francisco energy commission last year, Fenn raised eyebrows by saying that installing a tidal-power turbine in San Francisco Bay was worth it, even if it meant the potential deaths of construction workers. "Consider how many people your current energy supply is killing right now," he told the commission.
"It's funny," Fenn says now, "how a country that prides itself on innovating sometimes maintains an intense cultural resistance to innovation. It's what killed the auto industry in Detroit and it's what will sink the power industry."
Fenn's ideals, however, are intact. "Our biggest challenge, by far, is helping people understand that it's possible."
Bryce Hubner '00 is a freelance writer and photographer based in Northern California.
View Comments