Campus Construction Update: Week of July 26, 2010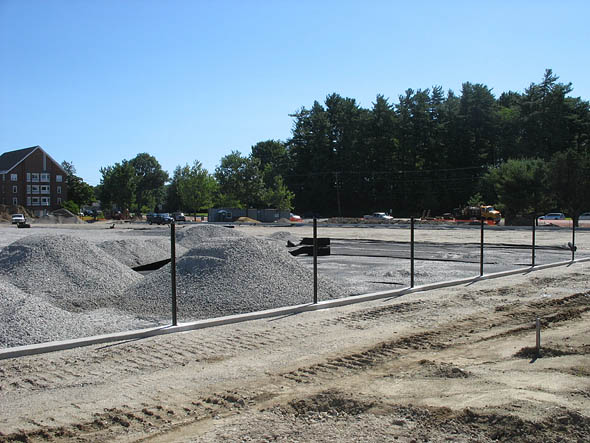 ---
Editor's note: Watch for the next Campus Construction Update on Aug. 20.
---
Thunderstorms on July 21 that unleashed torrents of rain and spawned three tornadoes in southern Maine also made their mark, happily minor, on the Hedge/Roger Williams construction site. Winds, which gusted up to 90 mph in some parts of the state, knocked over 40 feet of the fence around the site. "We called the contractor," Portland-based Wright-Ryan, "and the superintendent was nearby, and he just came over and put it back," says project manager Paul Farnsworth.
Read more of this week's news from the renovation of Hedge and Roger Williams halls
.
There will be less craning and straining in the name of patriotism when the Bobcats play on the renovated Garcelon Field. At the old grandstand, the flagpoles were atop the press box behind the spectators. So anybody who wanted to gaze at Old Glory during the national anthem had to twist right around to see it. The renovated facility, says project manager Mike Gustin, will feature three flagpoles behind the scoreboard, at the north end of the field by the Residential Village. "Now you'll just be able to look across the field," Gustin says. Read more of the news from the Garcelon Field renovation.
---
View the slide show below by clicking the thumbnails:
---
Can we talk
? Campus Construction Update welcomes your questions, reminiscences and comments about campus improvements. Please e-mail staff writer Doug Hubley at this
E-mail
, stating "Construction Update" in the subject line.
View Comments