The Valpo Surf Project
• Click the thumbnails below to view the slide show
In Valparaiso, Chile, Jon Steuber '08, Henry Myer '08 and Wiley Todd '08 teach surfing — and much more — to local children
Photographs by Jon Steuber '08
If your notion of surf culture begins and ends with Jeff Spicoli, the cosmically disenfranchised surfer dude from Fast Times at Ridgemont High, then catch what Jon Steuber '08, Henry Myer '08, and Wiley Todd '08 accomplished last winter and spring with their Valpo Surf Project, an after-school educational program for children in Valparaíso, Chile.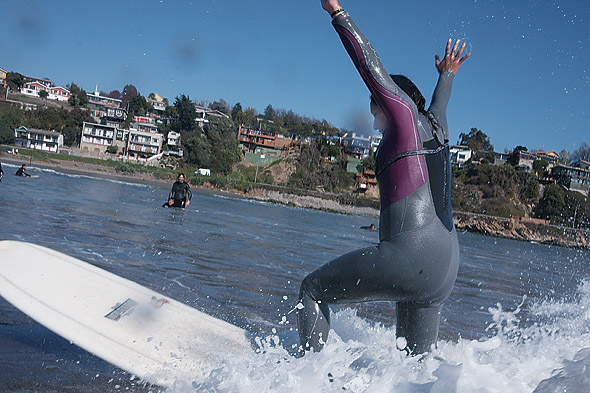 The Bates friends, joined by local resident Andres Ponce Morales and others, taught swimming and surfing to about a dozen Chilean girls and boys. And, during required classroom sessions, they also taught the youngsters about the local marine environment and tutored them in speaking English.
"We used surfing as a tool to teach self-determination and personal development," Myer says.
Steuber, Myer, and Todd founded the Valpo Surf Project after learning something about Valparaíso during Bates study-abroad programs or, in Myer's case, from his post-graduation move to the seaside city. The alums saw barriers that kept poor children from experiencing the ocean. With surfing, the barrier was expensive boards and wetsuits.
"These children see the ocean every day but many never have the opportunity to experience it," says Myer.
More than just surfing instruction, the Valpo Surf Project seeks to connect children to their local environment, and weekly beach cleanups were part of the routine.
The Valpo Surf Project is highly unusual, if not unique, Myer says. "The community's response was a mixed bag of fascination, gratitude, and skepticism," says Myer, who will return in September to continue the program. "It's an evolving dynamic." — HJB
View Comments