Dissanayake '09 returns to discuss Watson-year experiences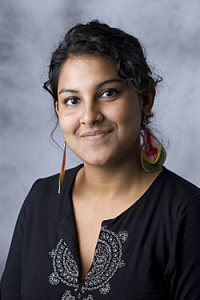 A Bates College alumna who used her 2009 Watson Fellowship to study performance arts in South Africa and Indonesia returns to discuss her experiences at 7 p.m. Friday, Sept. 10, in the college's Benjamin Mays Center, 95 Russell St.
An information session about applying for the Watson follows.
Sulochana Dissanayake of Pita Kotte, Sri Lanka, was one of 40 recipients of the 2009 fellowship, a $28,000 award supporting a year of independent research abroad. Driven by her ultimate goal of creating a Sri Lankan theater company and school that will examine her own country's social and political issues, Dissanayake used her Watson year to study performance traditions in Indonesia and contemporary theater companies in South Africa. Learn more.
South Africa and Indonesia "are similar to Sri Lanka in terms of our colonized histories, and economic, social and political backgrounds," Dissanayake explained after receiving the fellowship. "But both these countries, South Africa specifically, have discovered theater as a voice of their people — something yet to be done in local English-language theater in Sri Lanka."
Accordingly, her goal for the Watson-funded research was to observe the creative and developmental processes from start to finish, from the conception and writing of a socially relevant play to its casting and direction.
Entranced by performing since she was a toddler, when she and her father would improvise skits for the family, Dissanayake received the Watson at the end of a remarkable Bates career. She was one of the rare first-year students to direct a production by the student-run Robinson Players, and as a senior directed one of the college's two annual mainstage productions — a responsibility usually undertaken by a professor of theater. All told, Dissanayake directed nine productions at Bates.
In addition, during summer 2008 she was a directing intern at the acclaimed Guthrie Theater, in Minneapolis, and during the previous summer apprenticed at the Williamstown Theatre Festival, in Massachusetts.
Dissanayake double-majored in theater and economics, deliberately coupling creative development with coursework that acknowledges practical realities. "My goal is to ensure that when I set up an independent contemporary theater company in Sri Lanka, I'll be able to make wise financial decisions."
The Thomas J. Watson Foundation was created in 1961 by Mrs. Thomas J. Watson Sr. in honor of her late husband, the founder of International Business Machines Corp., widely known as IBM. The one-year Watson Fellowship offers college graduates of unusual promise a year of independent, purposeful exploration and travel, in international settings new to them, to enhance their resourcefulness, imagination, openness and leadership, and to foster their humane and effective participation in the world community.
At least one Bates senior or graduate received a Watson Fellowship every year from 1985 through 2000, in 2002 and 2003, and from 2006 through 2009.
View Comments