Campus Construction Update, Oct. 1, 2010: Garcelon Field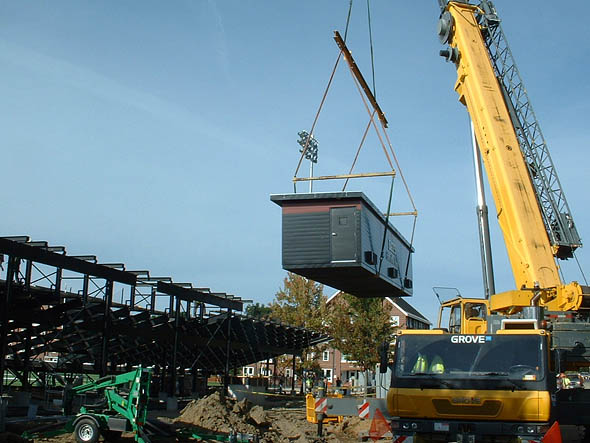 With its dedication and inaugural game a week away, what's left to be done in the renovation of Garcelon Field?
"Just a whole lot of loose ends," says project manager Mike Gustin.
Rain is forecast for Friday, Oct. 1, he says, so general contractor R.A.D. Sports will be on the job right through the weekend, when "the weather is supposed to be clear and decent."
He says, "Everybody's got a little piece left. We've got to finish wiring everything up, we've got to finish paving, we've got a little fencing, a little bit of landscape work. And 99 percent of it is around the grandstand itself.
"They're working one on top of the other. It makes it hard, but we'll get through it."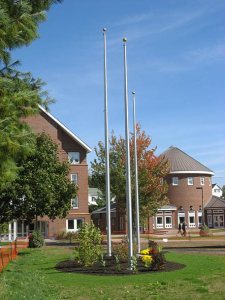 Details, details. The grandstand itself is still being assembled. The pre-installed wiring for the press box needs to be connected to the electrical and telecommunications networks. Aluminum planks and red plastic seats need to be placed. There is safety fencing to install to keep folks from toppling off the back and sides of the structure.
And a handicapped access ramp to the seating area needs to be completed. (A lift to carry people with mobility issues up to the press box will not be done in time for that first game, Gustin notes.)
Away from the stands, one of the four big Musco light towers needs to be connected up. And there's still grass to be sown and grown — that, too, likely won't be completed by the 9th, and some areas around the field will be cordoned off to protect new topsoil and seed.
Looking back at a major project that seemed to unfold at lightning speed during the summer, Gustin is pleased by the way it went. R.A.D. has been "real good to work with," he says. "Their people are real knowledgeable and they've done a great job."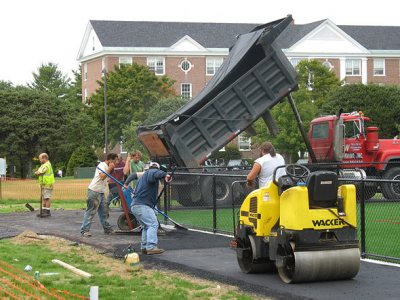 In the grand scheme, unexpectedly soft soils caused the only slowdowns. At the sites of both the grandstand, as we described previously, and the Musco towers, the original foundation designs had to be changed to accommodate soil conditions.
"Those items set things back," Gustin says. "But we got the field ready in time for their first practice. We knew it would be tight, but we made it."
And, he says, "It's going to be tight to meet the dedication on the 9th, but we'll get it done."
Read about the renovations of Hedge and Roger Williams halls.
View Comments