Campus Construction Update, Oct. 1, 2010: Hedge and Roger Williams halls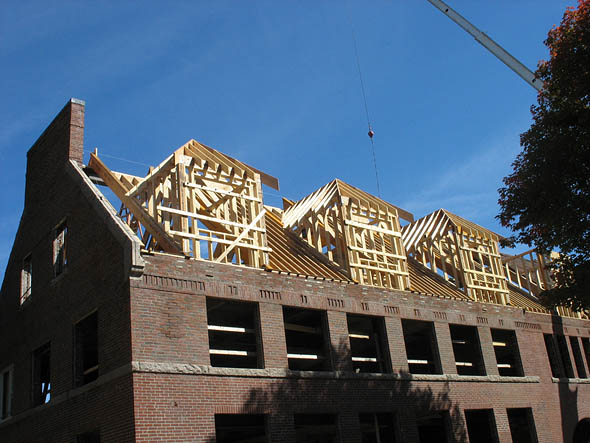 So here we were contemplating the renovation of Hedge and Roger Williams halls and thinking, Steel, baby, steel! It's all about the steel!
But that's so two weeks ago. Because now it's all about the wood.
Hedge, in particular, has blossomed forth with what looks like poetry in lumber: a dense and intricate roof framework that includes big new dormers overlooking the Historic Quad.
It will take another couple weeks to build that out, says project manager Paul Farnsworth, with plywood sheathing soon to appear on the dormer side and the flat center section, and joists going onto the addition, adjacent to Alumni Walk.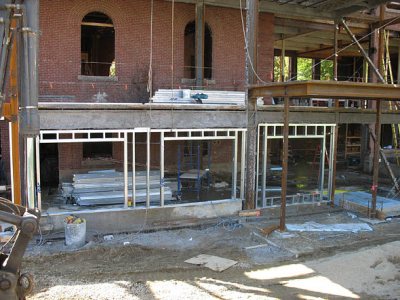 Down at ground level, the green construction fence is concealing cool developments involving the Hedge addition. Workers are placing metal studs that will support exterior sheathing, and — if I may lord it over you, yet again, that I have a 6-foot stepladder and you don't — a peek over the fence will show you what the windows near the building entrance will look like.
In other words, the face of this new campus presence is starting to appear.
The Alumni Walk entrance to the completed addition will extend a premise central to the design of Alumni Walk: that this space should invite passers-through to stop, say "howdy" and set fer a spell. The Hedge entrance plaza will lie a couple feet below Alumni Walk, and the retaining walls between the two levels will make a nice spot to sit and chat.
Inside Hedge, the major steel work is done. Some fireproofing — the gray stuff you can see on the addition, even without a stepladder — has been sprayed on the steel. The MEP guys (mechanical, electrical, plumbing) have worked out where their various connections will run, and are installing hangers to support those ducts, wires and pipes.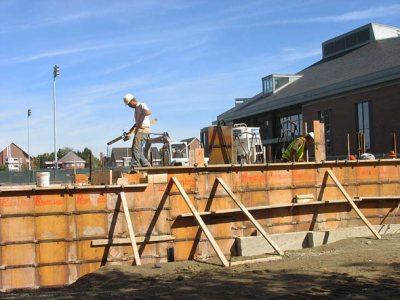 Finally, says Farnsworth, "we have a whole ground floor inside now," with the pouring of a concrete slab a couple weeks ago.
Across the worksite at Roger Williams Hall, it's all about the . . . never mind. The big news is the second phase of the foundation for the addition that will face New Commons and Alumni Gym. That was poured the week of Sept. 27, and Farnsworth expected the wooden forms to come off this weekend.
Probably the week of Oct. 4, the next step will be taking off the roof — nearly all of it will be removed, excepting the bit toward Garcelon Field where the chimneys are.
Inside, Farnsworth says, "they're attaching the wood floor joists to the steel, working from the top down." As the steel takes the floor load, workers are removing the shoring that's been holding the building up.
"And when they finally get to the ground floor and get the shoring out of the way, the plumbers and everyone else who does stuff underground can finally do the stuff underground."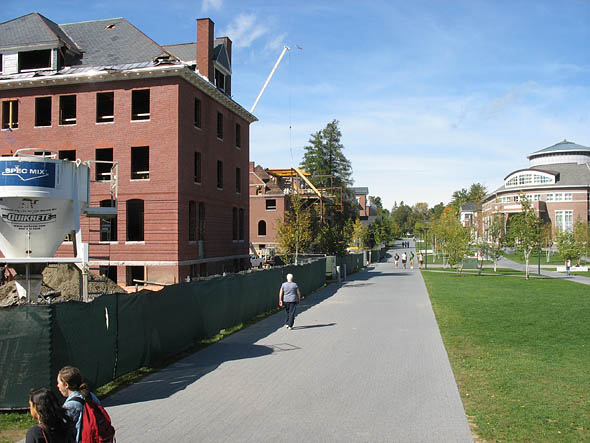 View Comments