'Conversation with the President' touches planning, building, finance
The fate of Chase Hall. The state of town-gown relations. The tradeoffs between finite resources and key priorities. And what does it say that Bates ranks fourth in a Newsweek listing of schools "stocked with jocks"?
Those were a few of the topics some 60 parents raised in a conversation with President Elaine Tuttle Hansen and a handful of senior staff early on Parents & Family Saturday.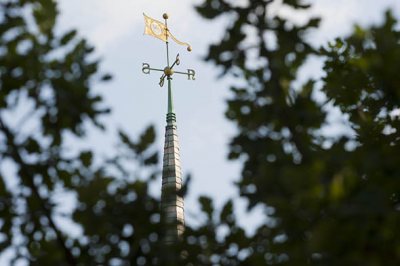 Hansen opened the session with an overview of the state of Bates that ranged, as she put it, from "parents to peppers" (the latter referring to a vegetable garden that's helping to supply Commons).
She began her overview with a theme from Sandra Steingraber, the biologist whose Otis Lecture at Bates on Oct. 4 explored chemical pollutants' effects on human health. Steingraber says that parents have two primary responsibilities: protecting their children and planning for their future.
Thinking of a better future is the way to let in hope.
There's so much, it seems, to protect them from — "many reasons for despair in the world," Hansen said. But if there's always trouble at the door, thinking of a better future is the way to let in hope. In a sense, that better future shows up at Bates at the end of every summer, as students new and established arrive on campus.
And Hansen, citing a series of buoying encounters early in this academic year, noted that the consensus among faculty and staff is that the Class of 2014 is distinctively "engaged, participatory, enthusiastic and focused."
She described the two major planning efforts that will shape both the Bates education and the physical campus in the years to come. One is Choices for Bates, a collaboratively developed strategy for Bates academics that is re-emphasizing three programming areas: the Bates Arts Collaborative; a natural sciences and mathematics initiative; and ideas, such as a Learning Commons resource center, that will advance learning in the residential liberal arts setting.
The other planning effort resulted in the recently updated Campus Facilities Master Plan. The first phase is wrapping up with the renovations of Hedge and Roger Williams halls, and now the College is looking ahead, into the next decade, to new residences in the Garcelon Field area; a "Main Street" assemblage of facilities and residences with an inviting urban vibe to Campus Avenue; and a new math and science center at the corner of Campus and College Street.
The guiding principle for all these developments, Hansen explained, was a distributed model of facilities planning that "weaves together formal and informal learning and living."
More than a dozen parents had questions for Hansen and the members of the senior staff. To the person who inquired about Chase Hall, Hansen replied that in the current thinking, this beloved but problematic building will be "edited," as the architects say — some parts renovated, some parts removed — to fit into the Main Street mixed-use development.
Despite a couple of high-profile contretemps between students and local police during the past six months, Dean of Students Tedd Goundie said that relations between the College and the Lewiston Police Department were good, and that, compared with town-gown situations at other schools, "I'm pretty happy with where we are."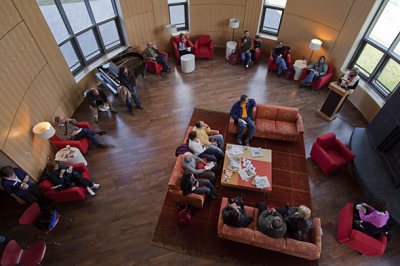 Cable showcased the College's newly revitalized career services office.
Nancy Cable, the College's vice president for enrollment and external affairs, added that the college's robust programs in community-based learning and volunteerism make the town-gown bond much stronger. A different questioner, curious about career support for students after graduation, gave Cable the opportunity to showcase the College's newly revitalized career services office — now known as the Bates Career Development Center.
What about that "stocked with jocks" thing (a timely query with the Bobcats' first game on the newly refurbed Garcelon Field just hours away)? Newsweek mashed up some numbers: how many students play sports and how many sports are offered (intramural, club, varsity); the quality of facilities and interest in sports; and how much money is spent on athletics. Said Goundie, "There's no jock vs. nerd split at Bates because so many students play a sport." (The same ranking also noted that "with its Peace Corps–friendly student body and 21 percent of its federal work-study funds spent on community service, Bates ranks as the sixth most service-minded school.")
A couple of questions about the eternal tension between goals and financial resources led Hansen to spotlight how Bates has been able, even in the current economic doldrums, to better support the faculty and maintain its longstanding level of financial aid.
But Vice President for College Advancement Kelly Kerner also pointed out, to appreciative laughter, that after decades of living by the mantra of "doing more with less," Bates is "working on doing more with more."
View Comments