Joseph Woodhead, coach of champion Bates throwers, dies at age 76
• Click thumbnails below to view images of Joseph Woodhead at Bates:
Joseph Woodhead, a paragon of success as a longtime assistant  track and field coach at Bates College, died unexpectedly at his home in Old Orchard Beach on Monday morning, Oct. 18, at age 76.
Already an accomplished coach when hired by legendary men's track and field coach Walter Slovenski in 1985 to work with Bobcat throwers, Woodhead created a legacy of unparalleled excellence at Bates in his 25 years.
---
A memorial service for Joseph Woodhead will be held in the Bates Chapel on College Street at 2 p.m., Oct. 25, with a reception immediately following in the Benjamin Mays Center at 95 Russell Street.
The Sun Journal's Kalle Oakes writes a tribute to the man who "left a legacy of championships and volumes of memories" in the local community.
Joseph Woodhead's online obituary and guest book have been published.
---
His specialty events were the indoor weight throw and outdoor hammer throw, and during the Woodhead era 15 Bates throwers won 43 All-America awards, including six NCAA championships: Billy McEvila '99 (35-pound weight throw); Jaime Sawler '02 (hammer, twice);  Keelin Godsey '06 (hammer, twice);  and Noah Gauthier '08 (35-pound weight throw).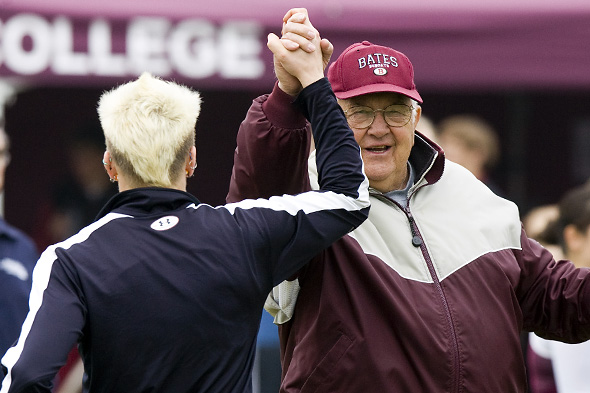 In his final year, two prized pupils, Vantiel Elizabeth Duncan '10 and Richard McNeil '10, each garnered All-America honors at NCAA Division III Track and Field Championships: Duncan in the weight throw and McNeil in the hammer.
"An honor reserved for those rare individuals who give so much."
In February 2009, following extensive renovations to Merrill Gymnasium and Slovenski Track, the throwing area was renamed the Joseph Woodhead All-American Throwing Area. The surprise dedication event, attended by more than a dozen current and former Woodhead athletes as well as many well-wishers and family members, caught Woodhead unawares.
"I am truly humbled, which may come as a surprise to some of you," he said as attendees laughed.
"The size of the crowd tonight shows how influential Coach Woodhead has been in so many lives over the course of his career," said master of ceremonies Al Harvie '65. "This type of honor doesn't happen often at Bates. It is reserved for those rare individuals who give so much."
Woodhead was named New England Men's Assistant Track and Field Coach of the Year in 2008 by the U.S. Track and Field and Cross Country Coaches Association, and New England Women's Assistant Coach of the Year in 2010. In 2007, the Bates Department of Athletics honored him with its service award.
Woodhead was inducted into the Auburn-Lewiston Sports Hall of Fame in 2000, an honor that served to highlight his great athletic success before coming to Bates.
An standout lineman at Lewiston High School, he served in the U.S. Army before heading to Springfield College, where he was an All-New England football lineman and record-setting hammer thrower. He transferred to the University of Maine his senior year and placed third in the Yankee Conference in the hammer.
Woodhead began his coaching career at Lisbon (Maine) High School in 1961. He coached the Greyhound wrestling, basketball, track and field, and football teams, compiling a 164-67-2 record in football, including state championships in 1961, 1968, 1971 and 1978.
He took up weight-throwing again in 1986, after a 30-year hiatus, and won three silver medals and one gold at national masters championship meets.
Survivors include his wife, Mary Ellen Woodhead; sons Andy and Mike; and their families.
View Comments