Parents, families experience full spectrum of life at Bates
View the slide show above by clicking the thumbnails.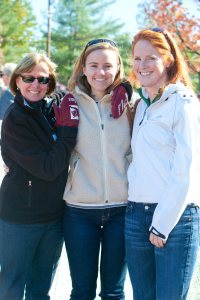 While Bates dance clubs and the Modern Dance Company cast their spell over an SRO audience in Schaeffer Theatre, the Bobcats played their first football game on the newly refurbished and just-christened Garcelon Field.
With fall's cold winds shaking the changing leaves and skittering down the length of Alumni Walk, students revisited the summer of 2010 — that is, their summer research — with a poster session in Perry Atrium.
Former members of the staff of U.S. Sen. Edmund S. Muskie '36, one of Maine's most influential politicians, gathered to celebrate the 25th anniversary of the Edmund S. Muskie Archives and Special Collections Library at Bates — even as patrons of the Museum of Art heard about a Moroccan photographer who's reclaiming the visual representation of women.
The Brooks Quimby Debate Council argued for and against Wikileaks, the Outing Club led a birdwalk through Thorncrag, Senior Project Manager Paul Farnsworth talked about the renovation of Hedge and Roger Williams halls — and Bill Hiss '66 told, once again, the whole story of Bates.
All the while, proud parents and jealous siblings took it all in. That was Parents & Family Weekend 2010 at Bates.
–Doug Hubley
View Comments