Philanthropy's impact on teaching, research addressed at Benjamin Bates Society gathering
• Click on the thumbnails below to view images from the Leaders in Philanthropy event (photos by Lorenzo Ciniglio):
Reflecting on her participation in the recent Leaders in Philanthropy program in New York City, Associate Professor of Biology Rebecca Sommer explained the rarity of her professional situation.
""What I am most proud of as a Bates professor," she says, "is that I can conduct significant research daily, teach daily, and involve students all the time. Research, teaching and student learning are integrated. That's rare, and it really distinguishes Bates."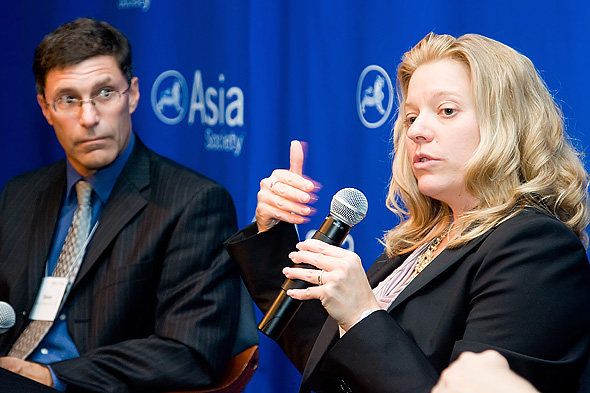 The dinner program, held at the Asia Society in September, offered Bates' top donors a chance to hear about the intersection of philanthropy, teaching and research, and the Bates mission. It was sponsored by the Benjamin Bates Society, the College's recognition program for donors who have given $1 million or more to Bates in their lifetimes.
Featured guests also included Ischemix R&D head Steve Kates '83, recently featured in Bates Magazine; Spelman College professor and Bates Trustee Alison Bernstein P'09, a former Ford Foundation vice president; and Lumina Foundation head Jamie Merisotis '86, also a Bates Trustee.
In terms of teaching, the close interaction that characterizes teaching at Bates, Sommer says, "makes all the difference, in terms of taking students from not knowing how even to approach a question on their own, to taking a problem on and solving it."
Sommer also recalls how her fellow panelist, Steve Kates, impressed upon the audience that he begins with Bates when he talks publicly about his professional path. Sommer explains that "the norm in the scientific community is to start with your graduate program, as if that's where your life as a scientist started. But Steve starts with Bates. That makes it clear that you only get into the best graduate programs if you have a great undergraduate program."
The Leaders in Philanthropy program also featured a visit to the Asia Society exhibition Nobody's Fool, the first major New York exhibition by the Japanese artist Yoshitomo Nara, as Dan Mills, director of the Bates College Museum of Art, offered comments on the installation.
View Comments