Trashion Show: Once disposable, now elegantly posable
View the slide show by clicking the thumbnails.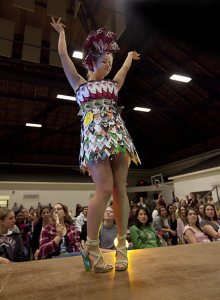 Text by Kelly Cox '11 | Photographs by Phyllis Graber Jensen
Students and staff strutted their stuff on the runway Nov. 17 as sustainability met fashion for the fifth annual Trashion Show. The Bates community devoured desserts in the Gray Cage while observing fashionable creations transformed from what would have been waste.
A major attraction at Bates' Harvest Meal celebration, the show is a friendly competition stressing the College's dedication to being a "green" institution.
"It builds awareness from an atypical angle, encouraging students to see that sustainability can be incorporated into everything we do," said Julie Rosenbach, Bates' sustainability coordinator.
As entertaining as it is thought-provoking, the fashion show stresses both individual responsibility and communal effort in reducing consumption. The Sustainable Bates program collaborates with Dining Services, known nationally for its green practices, to host the event.
"It has an impact on a portion of the population that might not otherwise be reached," noted Christine Schwartz, director of Dining Services. "The mission and focus is to further sustainability initiatives on campus, which makes collaborative partnerships a natural."
Participants produced garments in various styles from a range of materials including non-recyclable tea bag packets, coffee containers, rubber gloves, curtains and newspapers.
A panel of judges chose three designs out of a dozen as the winners.
Ellen Gawarkiewicz '13 received the "Most Functional" award for a cocktail dress fashioned out of 500 aluminum yogurt lids, sewn together with plastic bags. An environmental studies major, Gawarkiewicz used her design to send a message about change and efficiency.
"I would like people to question why these lids, which take so much energy to produce, aren't recyclable. I'm sure with some ambition and creativity there could be a more environmentally friendly way to cover a yogurt in the future."
"Most Fashionable" went to Dana Lindauer '11 for her papier-mâché outfit, covered with more than 100 origami flowers made from scrap paper from Commons, Pettengill and Ladd Library.
Seniors Sarah Dice-Goldberg and Elizabeth Lee won "Best Overall" for a late-1700s design composed of plastic bags, bubble wrap and pleated flower-bulb magazines. The gown represents the combined interests of Dice-Goldberg, a French and theater double major, and Lee, an interdisciplinary major, both of whom hope to pursue a future in theater.
The event was hosted by Bates EcoReps, a team of students who promote environmental awareness on campus. The team has coordinated educational programs on energy reduction, trash audits and a residential energy-conservation competition. The energy-competition winner, announced during the Trashion Show, was Mitchell House, whose residents won $150 for lowering their electricity usage by 32 percent.
View Comments