MLK Day: Bates explores non-violent activism past, present and future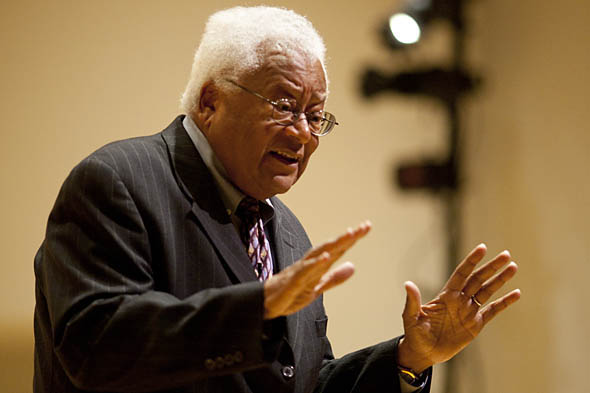 In case you think that all the heavy lifting in the cause of social justice is over and done with, the Rev. James Lawson has news for you.
"I am absolutely convinced" that the 21st century will be the time for a social justice movement that overshadows the transformative campaigns of the previous century, Lawson told a Bates College audience gathered on Jan. 17 to celebrate the life and work of the Rev. Martin Luther King Jr.
It will be a movement, he proclaimed in his keynote speech, even "greater in its intensity and its power of truth" than the civil rights movement in which he played a key role. In an effort that spans all faiths and targets all prejudices, "we must work for the dismantling of the systems of oppression in the United States," said Lawson, an influential advocate of non-violent activism who worked closely with King in the 1950s and '60s.
---
More King Day coverage:
---
At Bates for King Day was a second keynote speaker, Asher Kolieboi, who works for equal rights for the lesbian-gay-bisexual-transgender-questioning community. The pairing of Lawson and the 20-something Kolieboi symbolized the passing of the social justice torch down through the generations.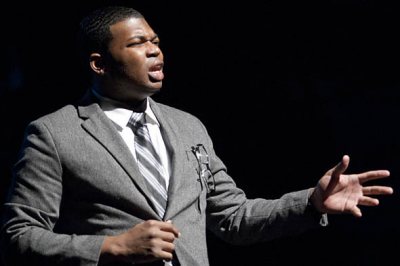 Also on hand was Vinie Burrows, the actress and activist, who moderated a discussion and will offer performances at Bates and elsewhere in Maine during the week. A debate and a student performance Monday and a worship service Sunday evening featuring a sermon by Lawson were also in the plan.
Lawson's keynote provided the right message for a King Day observance meant to spur action. Borrowing its first half from reggae singer Bob Marley and its second half from King, the theme for the day was "Get Up. Stand Up. The Fierce Urgency of Now."
Listeners also heard much about the roles of Christ and of Gandhi in the philosophy of non-violence as practiced by the keynote speakers.
Bates President Elaine Tuttle Hansen and Dean of Faculty Jill Reich offered opening remarks during the morning keynote session in the Olin Arts Center Concert Hall. Hansen pointed out that Bates — founded by abolitionists and always open to men and women of all races and religions — was distinctively qualified as a place to celebrate and reflect on King's legacy. Hansen noted that the Jan. 8 massacre in Tucson "reminds us that the world needs the teachings of Dr. Martin Luther King more than ever."
"We need both Dr. King's lessons and his persistence. No matter how dire the situation, he said, 'I refuse to allow myself to fall into the dark chambers of pessimism.' "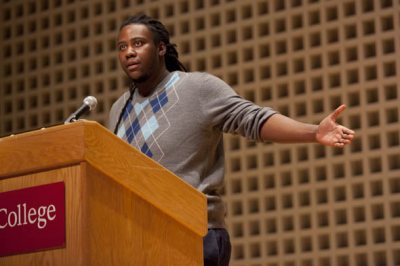 Reich enjoined the Olin Arts Center audience of some 250 people to step beyond the ceremony of a single day and turn inspiration into action. "The inspirational words in which we find comfort are not enough," she said. "We must find ways to live them — not just on special days like this one, but every hour, every minute, day in, day out."
An elegant figure in a pinstripe suit and Western boots, Lawson wore a wireless microphone so he could pace the Olin stage as he talked. His address — titled, after King's book, Where Do We Go From Here: Chaos or Community? — ranged effortlessly from past to present, from his own story to that of the civil rights movement, and thence to the nagging unmet demands of social justice.
The theme that shaped his talk was the deep imperative he felt from Christ and Gandhi to the exercise of non-violence in the cause of human rights. "You have before you a follower of Jesus who began resisting injustice around the age of 4, 78 years ago," he said.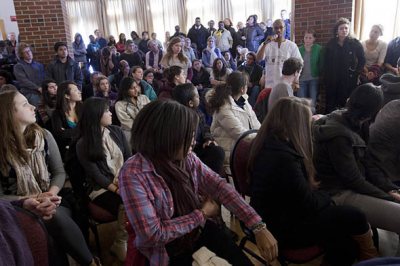 After he struck someone who used a racial slur against him, Lawson's mother forbade further violence and urged that he wield brotherly love instead, "and make it work for every issue in my life, experiment with it, and make it a form of strength instead of weakness." That was the seed of a lifetime of non-violence that was enriched by Gandhi and bloomed into full flower during the civil rights movement.
Though he rejects any political labels for himself, Lawson was eloquent in cataloging the evils still perpetrated by Western society and the white-male power structure. "The major obstacle to the advancement of the human race in the world today is white Western civilization," he said, while acknowledging that he is himself a product of that power structure.
Anticipating Kolieboi's talk several hours later, Lawson didn't spare a conservative evangelical community that has, he believes, lost sight of Christianity's essence. "One might ask, why does Christianity put all the weight on 'Are you saved?' instead of on doing God's work on Earth?" he wondered. "It seems to me that the notion of the Kingdom of God is that there is no area of human life that does not benefit from learning the ways of truth and compassion."
In describing his own work as a co-director of the Equality Ride, which periodically brings young LGBTQ advocates to colleges and universities to advocate for fairness and diversity, Kolieboi (now LGBTQ community coordinator at Oberlin College) paid explicit tribute to Lawson's gift to American activism of non-violence.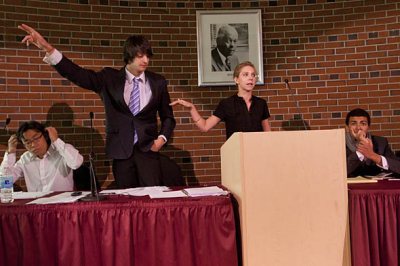 But in contrast to Lawson's free-ranging review of a life in social activism, Kolieboi hewed closely to the values and operations of the Equality Ride and its parent organization, Soulforce. Describing the prejudice against the LGBTQ community at some evangelical Christian schools, he admitted that it was an education even for him to discover the harsh consequences suffered by anyone expressing same-sex attraction — expulsion, suspension, loss of financial aid, compulsory "conversion therapy."
Pointing to racist and homophobic sentiments that still persist even among social activists, Kolieboi echoed Lawson's call for a social justice movement that would transcend specific communities of interest to strive for equality, justice and freedom for all people.
"We are not single-issue people," he said. "We can't talk about LGBTQ rights without talking about access to education, or about healthcare or the prison-industrial complex."
He ended his address with a maxim from Napoleon Bonaparte: "There are only two forces in the world, the sword and the spirit. In the long run, the sword will always be conquered by the spirit."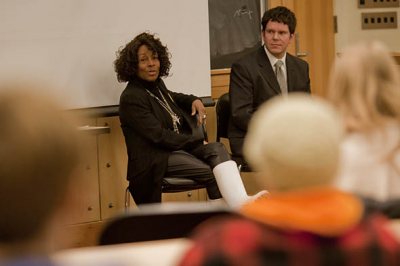 Breakout sessions after each keynote, and finally a late-afternoon plenary session with Lawson and Kolieboi, sought to digest and expand upon the speakers' thoughts.
Vinie Burrows led one morning session. The petite actress wielded an outsize personal authority that kept the session moving along despite the group's initial reticence to speak. She asked the group of about 40 students and Lewiston-Auburn community members how they would respond to the charge to action that Lawson had issued. Like society in miniature, the resulting discussion was a collision between prescriptions for action and descriptions of the obstacles.
In the end, it boiled down to a question simple but profound: Why can't students make friends outside their familiar circles? An African American student applauded Bates' efforts to diversify the student body, but said that in spite of growing diversity on campus, the races rarely mix in Commons. "Is it really diversity if it's not integrated?" she wondered.
The burden is on students, a male student replied. "The point of school is to expand our horizons. People need to challenge themselves."
About 40 people attended an afternoon breakout moderated by Erica Rand, professor of art and visual culture, and Cynthia Alexandre-Brutus '13 of Brooklyn, N.Y. Focusing on the struggle to expand gay rights and on issues with conservative Christians, the session was sparked up by the contributions of LGBTQ activists from the community.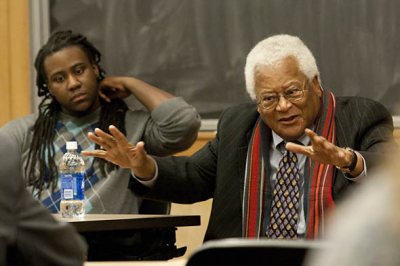 One of those activists offered cause for optimism, pointing out that despite the considerable prejudice still in place, the LGBTQ cause has been met "with the fastest change in opinion in American history. We are making tremendous progress."
"We have to thank the civil rights and women's rights movements," someone else said. "This is the third time we've been through this."
But the discussion nevertheless returned, inevitably, to the basic need to spark meaningful action.
"It's hard to create that safe space where people can just be honest" about race, women's issues and so on, said Alexandre-Brutus. "How can we get people engaged?"
"Maybe do this more than once a year?" another student suggested.
— Additional reporting by Allison Lizars '11
View Comments