'Destroy what destroys us,' says Service of Worship speaker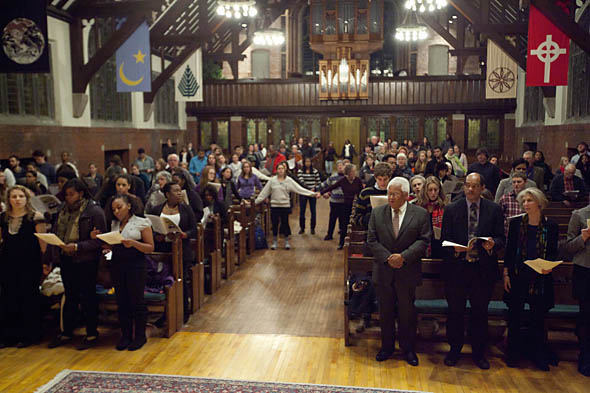 "It's been a long, a long time coming, but I know a change is gonna come." The hopeful words of the Sam Cooke song sung by soloist Megan Guynes '11 made a fitting opening for the Jan. 16 Memorial Service of Worship that began Martin Luther King Jr. Day observances at Bates.
The centerpiece was the Rev. James Lawson's sermon. Lawson was an important advocate for nonviolent activism during the civil rights movement, and was instrumental to the founding of the Student Nonviolent Coordinating Committee in 1960.
A personal friend of King's, Lawson told the Bates audience how King had first encouraged him to move down South and continue his work at the heart of the emerging civil rights movement. Lawson praised King's work as "breaking down barriers of fear, silence, racism and sexism, and lifting up a new era."
Lawson also emphasized that the campaign goes on. "I want you to understand that to celebrate Martin Luther King's life is to celebrate a movement made up of hundreds of thousands of people," Lawson told his attentive audience.
Pointing to the many issues of violence, fear and injustice that our nation continues to struggle with, he said, "We, the American people, have not permitted the slogan 'equality, liberty and justice for all' to be the slogan of our land."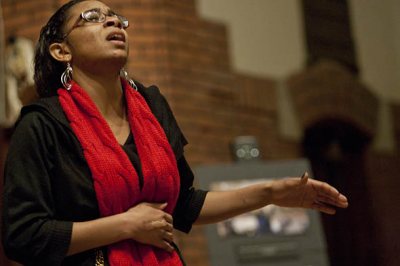 He urged, "Destroy what destroys us, and replace it with instruments that allow human creativity and joy."
Taking place in the Bates Chapel, the service was attended by 175 or so members of the Bates and Lewiston-Auburn communities. The audience was also treated to inspirational readings from students and faculty, music provided by Bates ensembles the Crosstones and the Gospelaires, and a dance performance by Bates' liturgical dance troupe, Justified.
— Gabrielle Otto '11
View Comments