They ran, not walked, to the debut Arts Crawl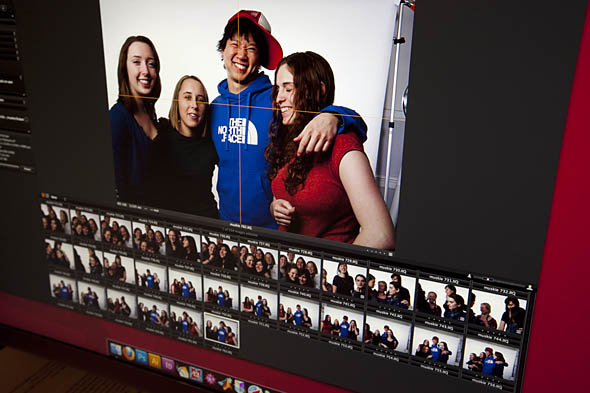 Four students gyrated in slow motion around Chase Lounge watched by an audience of 20 or so. Sometimes in pairs, sometimes a foursome, sometimes a trio with an odd woman out, they stayed in constant motion — but also in constant contact with one another. Arms around, shoulders rolling against shoulders and hips against hips.
Called "contact improvisation," this practice is basic to modern dance training, explained Rachel Boggia, acting director of dance at Bates. It helps dancers learn what they're capable of. It makes them more aware of what others around them are doing. And it inspires new ideas for their work.
Like contact improvisation, there's no telling what new inspirations will come from Bates' first-ever Arts Crawl, held Jan. 28. This Friday evening smorgasbord of the arts at Bates, performing and literary and visual, empowered the art makers and showed the campus the breadth and depth of creative work that happens here.
The Crawl told campus, "We're here! We're everywhere!" says Kirk Read, associate professor of French and chair of the Bates Arts Collaborative, the group that mustered up the event.
He adds, "Seeing all of these students involved in such marvelous, often impromptu arts events was invigorating and affirming of the arts on campus." Despite other events worthy of attention that evening, including men's and women's basketball wins over Wesleyan and the Asia Night variety show, "I thought the overall engagement on campus was fantastic."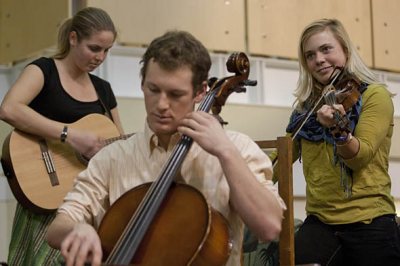 The Crawl comprised simultaneous presentations and performances, mostly by students, from Olin Arts Center to Chase Hall. Equipped with a large, colorful Arts Crawl map and timetable, crawlers could:
sample the Bound to Art book exhibition and talk to student artists in their studios at Olin;
catch music, from gamelan to folk fiddling, in Perry Atrium;
hear poetry at Coram and see dance and theater at Chase.
Not to mention surprises awaiting along the way, such as strolling a cappella singers, snow sculptures on the Quad and soft colors emanating from glow sticks buried in snowbanks.
The Crawl culminated Bates Arts Week. Manifesting the renewed emphasis on creative work mandated by the Choices for Bates strategic planning process, the week began with an Arts Summit that brought three experts in community-based arts to campus for a Monday panel discussion, an evening performance by spoken-word poet and hip hop dancer Marc Bamuthi Joseph, and class visits by the visitors.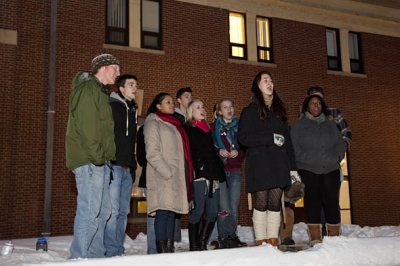 Mosaic of the arts
Wrapping up Arts Week on a cool starry evening ideal for strolling, the Crawl was by design a show of shows, a big-picture mosaic composed of short impressions.
Leaving the contact improvisers in Chase, an observer stopped next at the Imaging Center, in Coram Library, where large poetry excerpts hanging in the windows advertised the happenings inside: students in Eden Osucha's poetry course reading their own and others' verses.
One student read a favorite poem suitable to the weather, Billy Collins' "Shoveling Snow With Buddha." Another, presenting her own work in public for the first time, hung her heart on her sleeve with a piece about her parents' divorce.
Perry Atrium and the Bates Gamelan Orchestra offered an oasis of tranquility. Spare, cyclical, the pure timbres of the metal pot-like and gong-like instruments seemed to emanate from the very bones of Pettengill Hall. Listeners sat still, feeling the sound in their own bones, and the players didn't move much either, striking their instruments with intense deliberation.
Student artwork in the Olin lobby was charmingly irreverent. A set of line drawings traced the metamorphosis of the farmer from "American Gothic" into a chimp. Sets of paper dolls and their outfits included "Devout Women from Around the World," posing in their underwear adjacent to habits, niqabs and the full prairie-style dresses favored by women in certain American cults.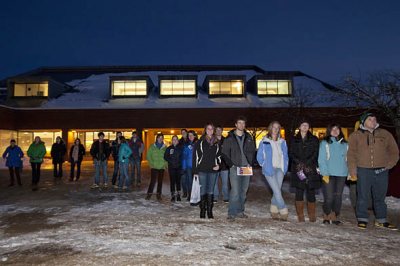 If the lobby display (and adjacent Dining Services buffet) was a popular draw, the art studios down the corridor were jammed with visitors — and the energy level rose still more with the arrival of a group of college trustees and faculty, led by President Elaine Tuttle Hansen.
Pouring it out
A cappella was a dominant flavor of the Crawl, with three Bates singing ensembles turning up around campus in scheduled appearances and at large. Heading alongside the frozen Puddle, an observer encountered the Deansmen singing Van Morrison's "Moondance," the flat bright light from a pole fixture subbing for Morrison's autumn moon.
Leaving Commons and campus after a driving display of dance by the Dynasty Step Club, an observer could hear the Merimanders all the way from the Coram terrace, fresh voices pouring it out into the night.
A dance solo in Chase Lounge, a work in progress by senior Lindsay Reuter, was the last stop for a number of spectators. "It was a perfect ending," says Read. "Lindsay asked our indulgence and reactions. It really warmed the hearts of trustees and faculty who know the value of rehearsal, critique and generous input that happens in a place like Bates."
Will this crawl be the first of many, or the one and only? "I know that students are energized about sustaining this higher visibility," says Read. "The idea of a moonlight stroll through a campus that's on fire with the arts in winter is something that has legs."
View Comments