Commencement report: The only failure is the failure to persist
"You will fail — you should fail," Evelynn Hammonds, dean of Harvard College, told the Bates College class of 2011 on May 29.
"But if you stick with it, and let your peculiarities become assets, you will succeed."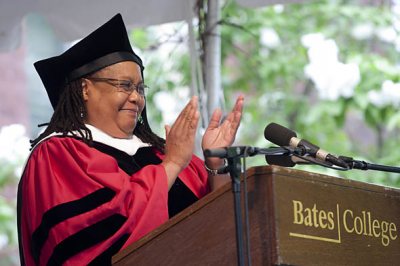 Hammonds, who is also a historian of science and professor of African American studies at Harvard, was one of three honorary degree recipients who spoke at the college's 145th commencement.
The others were Frank Glazer, a pianist of international renown and member of the Bates music faculty, and Robert Langer, an Institute Professor at the Massachusetts Institute of Technology and a highly prolific inventor of healthcare technologies.
The event drew a large and enthusiastic throng, wielding cameras and portable boat horns, to the college's shady Historic Quad. In different and complementary ways, the three honorands urged the 437 graduating students to stay true to themselves, to regard failure not as a conclusion but as a steppingstone to success, and to dream big.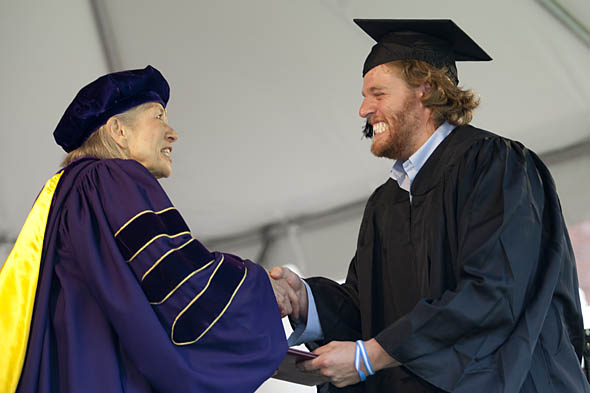 The occasion marked the end of the students' lives as Bates seniors, but it was final in another way too: It was the last of the nine Commencements hosted by President Elaine Tuttle Hansen, who leaves the college at the end of June to become executive director of the Center for Talented Youth at the Johns Hopkins University.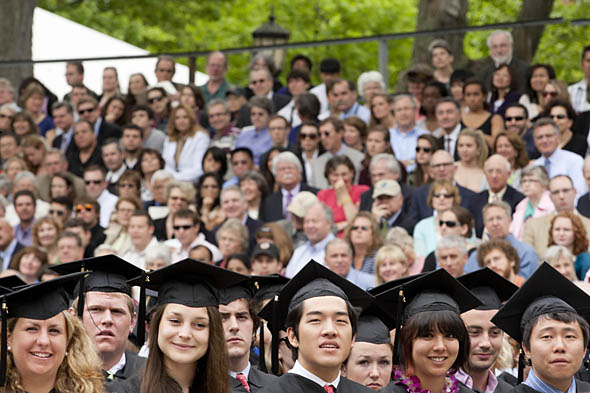 Hansen's welcome offered a recap of the seniors' time at Bates that was pertinent also as a record of achievements during her tenure. She reminded the departing seniors of her words to them in September 2007, at the Convocation that launched their Bates careers.
---
---
"I warned you that being at Bates for the next several years would mean finding your way, literally and figuratively, across ever-shifting pathways," she said. "You would be the class that never experienced this campus without navigating construction sites," as their arrival coincided with the start of a series of major construction projects that is still under way, part of a 25-year master facilities plan.
The class of 2011 was also the first to under earn their degrees under new curricular requirements that renewed the emphasis on writing, laboratory work and quantitative thinking, and that include General Education Concentrations intended to locate individual courses "within a multifaceted network of meaning."
"And you have changed in another key dimension as well, arriving near the beginning of an intense effort to enrich what we now call diversity and inclusion," Hansen said — an effort that has realized a doubling in the percentage of incoming students from previously underrepresented racial, ethnic and socioeconomic backgrounds.
Yet, Hansen told the students, change is one of the few unchanging qualities of an institution like Bates. "I reminded you in 2007 that while in some ways Bates in your time might seem uniquely challenged by all this change, in fact we remain aligned with and anchored by founding values of the college."
She said, "Our founders would immediately recognize you and the values you have chosen: intellectual achievement, social responsibility, self-discipline, creativity, good work, warm hearts."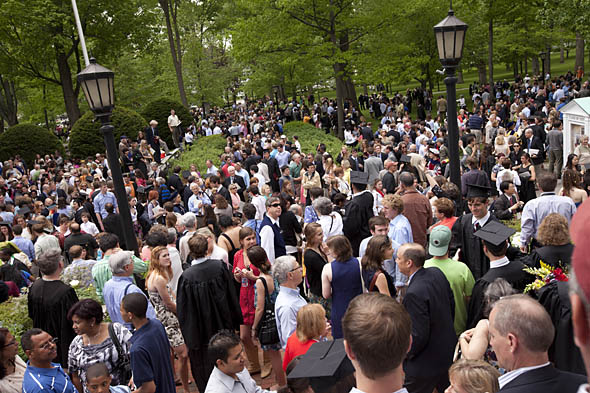 Hansen concluded, "You won't remember exactly what we say at Commencement, but you will always be able to say what you were doing and who you were with on May 29, 2011. And there won't be many days like that."
Presented by Dean of the Faculty Jill Reich for a doctor of fine arts degree, the 96-year Glazer drew from his 75 years of teaching a few guiding principles — in the process invoking the dust-yourself-off brand of optimism that defined so much of American culture during the 20th century.
A can-do attitude counts, the pianist said. "Others may see possibilities in us that we are totally unaware of. And if, instead of saying, 'I can't' or 'I won't,' we act upon these possibilities, our lives may be immeasurably enriched and we may thereby enrich other people's lives."
"With good grace, accept yourself for who you are and will be, without worrying about who you aren't, and never will be," Glazer concluded. "Do your best and let time do the rest" — fitting words from an artist whose treatment at the hands of time has been nothing short of astonishing.
Hammonds, presented for a doctor of humane letters degree by Vice Chair of the Board of Trustees Alison Bernstein, revealed that she and Bates shared a good friend and mentor: the Rev. Peter Gomes '65, who passed away on Feb. 28. Gomes, the Plummer Professor of Christian Morals and Pusey Minister in the Memorial Church at Harvard, was a steadfast champion of Bates.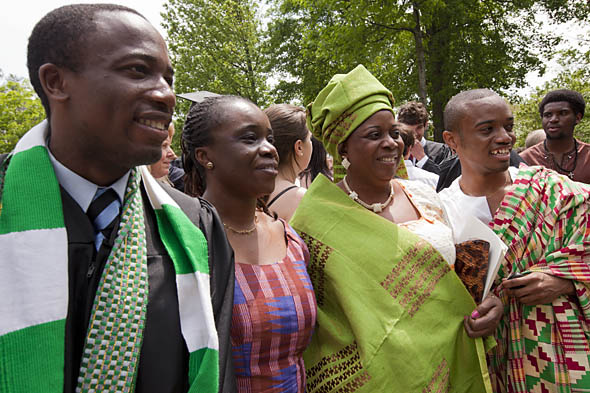 Gomes once told the Bates community that its founding dedication to equal opportunity made the college "quite peculiar, in the best of ways." Extending the concept, Hammonds told the students to "celebrate your peculiarities whatever they may be."
"Now, when you are different and somewhat peculiar, there can be a great deal of pressure from the world to do the same thing, to fit within the roles that have already been scripted for you, to resolve apparent contradictions by erasing them," she said. "I'd like to urge you to do something different."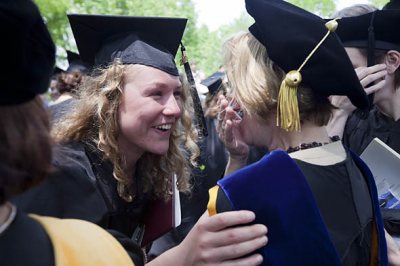 The road to self-transformation is paved with failure, Hammonds reminded her listeners, offering a story about a college job she held at Bell Labs. Assigned to construct circuits for laser controllers, she couldn't seem to build one that would work — until she could.
"To tolerate failure and frustration requires, if you will excuse the alliteration, fortitude," she said — a kind of fortitude that, in Gomes's words, "is the fuel of the long-distance moral runner, who despite inner fatigue and apparent outward success of others, nevertheless keeps on keeping on."
Bates was founded by such long-distance moral runners, said Hammond. It continues to produce them. "When you succeed, she told the seniors, remember those moments at which you failed, and think you how might extend your hand to those who walk in similar paths behind you."
Echoing Hammonds and Glazer, Langer offered two lessons: "Try to dream big dreams, dreams that can change the world and make it a better place." And stick to those dreams no matter what.
Langer's time in the wilderness came after he earned a degree in chemical engineering. He got more than 20 job offers from oil companies, but "I had this dream of wanting to use my background to improve people's lives." Opportunities to do such work — creating math and science curriculums for underserved youth, and doing health-related research — were scarce.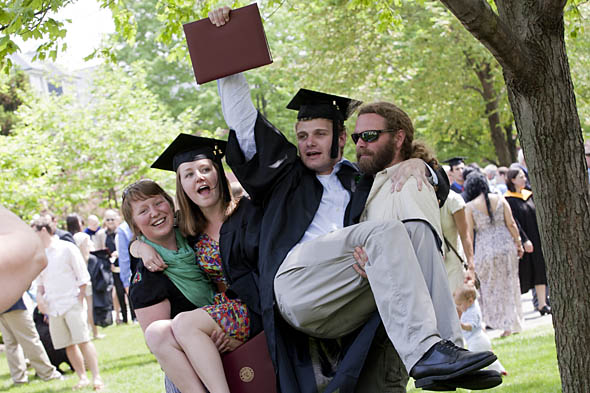 "But then one day, one of my friends told me that I should write to Dr. Judah Folkman, who was a surgeon," Langer recounted. The friend said, "Sometimes he hires unusual people." And it was his time with Folkman that set Langer on his current path.
"Whatever your dream is, many people may tell you that it's impossible, that it will never work," Langer concluded. "But I think that's very rarely true. If you really believe in yourself, if you're persistent and work hard, there's very little that is truly impossible."
View Comments